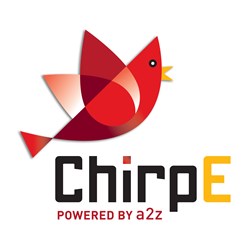 Columbia, MD (PRWEB) December 02, 2013
The ChirpE Photo Booth Scavenger Hunt at Expo! Expo! 2013 will offer event participants multiple opportunities to wear colorful props, share their photos on Facebook and Twitter instantaneously and enjoy some lighthearted moments with other expo and conference organizers. The game will also provide an opportunity to the host organizations to network with the scavenger hunt participants in their booths, and share the 'photomonials' with their own social media fans and followers in real-time.
All the ChirpE Scavenger Hunt participants who provide their email addresses will be entered in a random raffle for a chance to win a complimentary $500 Gift Card from a2z. The name of the winner will be announced by a2z on December 18, 2013.
Launched at Expo! Expo! 2012, the ChirpE Photo Booth solution adds a strong real-time social media component to face-to-face events by enabling fans to share and promote their show experience on leading social media sites directly from the event venue. The solution has been leveraged by a number of leading trade shows in North America, including IFT13 Annual Meeting + Food Expo, FDIC 2013 and PACK EXPO 2013, to extend their reach on social media by empowering attendees to advocate for their brand.
To learn more about ChirpE Photo Booth, visit a2z in booth 117 at Expo! Expo! 2013 or contact sales(at)a2zinc(dot)net.
About a2z
a2z, Inc. provides powerful web-based event management tools that grow your show by increasing and accelerating booth sales, helping boost revenue, and enhancing engagement and value for everyone. a2z, Inc. powers more than 850 leading events every year. a2z's solutions are used by more events on the 2013 Trade Show Executive Gold 100 list than any other exposition and conference management software provider in the industry. Our clients benefit from increased connectivity with their audience via an improved website for their attendees and exhibitors and both web-based and native mobile app solutions. To fulfill our goal of developing quality solutions that help save money and meet your needs, a2z offers three platforms as one integrated solution: Expo & Conference Management, Networking & Lead Management, and ChirpE Mobile- which includes our web-based and native mobile apps for smartphone and tablet devices