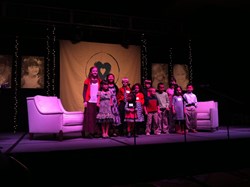 "Lifeline is indebted to Gabby (who) committed to be the Event Sponsor for Lifeline's largest Annual Fundraising Event...over 865 guests were in attendance," said Krisha Yanko of Lifeline.
Birmingham, AL (PRWEB) November 29, 2013
The first Thursday night in November, to kick off national orphan awareness month, almost 900 people gathered for the 11th annual fundraising dinner "Here's Our Heart" to support Lifeline's global mission of giving children a hope and a future through adoption, foster care and international orphan care. Gabby, the night's sponsor announced its partnership with Lifeline last August. With Lifeline's goal to raise $300,000, they orchestrated an impactful night of presentations on each of Lifeline's missions, world-class music and a silent auction of Gabby donated furniture and other gifts.
A stage was adorned with a modern setting showcasing photos of smiling children flanking Lifeline's blue logo, behind a matching Gabby eclectic sofa and two transitional style lounge chairs in white. Emcee was Lifeline's Executive Director, the charismatic Herbert Newell. The crowd heard passionate speakers educate and share messages of hope on the transformational effects of supporting adoption and foster programs. They met many new families who adopted children from around the world.
Presentations included Kai Christenberry, a young man adopted from China, who is deaf and communicated via sign language the rare and transformational opportunity given him in China. Mandi Mapes, whose authentic and unique voice was heard on the recent movie soundtrack, October Baby, performed heartfelt music. Auburn University's Miss Homecoming, the nationally acclaimed adoptee, Molly Anne Dutton, gave an incredible testimony called "Light up LIFE" with charming grace, poise and a magnetic smile. Newell shared heartfelt stories of his missionary work from across the globe followed by executive and leadership staff, culminating in an inspirational and touching night of motivating and fundraising.
Gabby president William White commented, "This has been one of the most rewarding commitments our company has made since our inception. What better gift can a company or individual make than to support an organization that helps find Christian homes for orphans around the world? Their foster care and un-adopted programs are also a big reason why we got involved." In attendance were William and his wife Laurie, parents Bew and Wendy White, and several staff. Bew is president of the outdoor furniture company, Summer Classics."
Krisha Yanko, Development Director of Lifeline commented, "Lifeline is indebted to the incredible business of Gabby. Our partnership began last year as Gabby generously supported Lifeline's fundraising efforts through donating to our silent auction at our 2012 Fundraising Dinner. We were amazed at the beautiful furniture and home accessories that were given without an 'ask' from Lifeline and knew that these additions would help us to raise significant additional funds to support Lifeline's ministry through adoption, foster care and orphan care."
"When I met William for the first time, his heart to care for the fatherless was evident. Hearing his desire to use Gabby's success to care for the least of these was an incredible encouragement. William's words carried into action as Gabby committed to be the Event Sponsor for Lifeline's largest Annual Fundraising Event held on November 7th 2013 where over 865 guests were in attendance. Not only did Gabby cover a significant portion of the cost of the event, but they also gave in support of our silent auction which raised nearly $10,000 towards the total funds raised that evening. In Total, the event raised $230,000. We are humbled and have seen how God provides through people. These gifts along with others given generously along the way are what enables Lifeline to continue to care for children in our community through foster care and orphans around the world. We are extremely grateful to know and be partnered with Gabby and have seen that their excellence carries far beyond the beautiful furnishings they offer. We hope to have an opportunity to partner with Gabby for years and years to come!"
Lifeline offers supporters the opportunity to make a one-time or monthly contribution at http://www.lifelinechild.org.
Gabby is a family-owned company based in Montevallo, AL. Each year, the furniture wholesaler chooses one charity to support, as part of a larger mission to be a positive influence in their local and global community.
Gabby
7000 Highway 25
Montevallo, AL 35115
888-868-4267
info (at) gabbyhome (dot) com