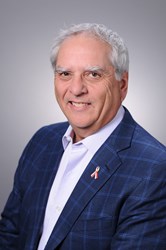 Rockville, MD (PRWEB) November 29, 2013
November is Pancreatic Cancer Awareness Month and Rockville, MD periodontist Dr. Steven N. Rice is promoting awareness about how proper gum disease treatment in D.C. can help patients reduce their chances of contracting pancreatic cancer. Many research trials have indicated a connection between the two diseases with one Harvard study suggesting that people with gum disease are 63 percent more likely to suffer from pancreatic cancer than people with healthy gums.
When periodontal disease occurs, carcinogens known as nitrosamines become present in the mouth and can travel through the body via the bloodstream. Patients with pancreatic cancer are known to have high levels of these same nitrosamines. It is upon this basis that researchers believe that underdoing gum disease treatment in D.C. can help area residents not only achieve good oral health but protect themselves against cancer.
In addition to the development of nitrosamines, the antibodies designed to fight the bacteria that cause gum disease have not only been found in people with pancreatic cancer but are found in levels twice as high than in patients without pancreatic cancer, further suggesting a connection between periodontitis and this form of cancer. During Pancreatic Cancer Awareness Month, Dr. Rice and his staff are working to educate people about the early signs of periodontal infection and how they can best combat it. Red, swollen, bleeding or tender gums are all signals that infection may be present and the sooner gum disease treatment in D.C. is received, the better the results may be.
Patients interested in using November's Pancreatic Cancer Awareness Month as a motivation to learn more about how they can stay protected against pancreatic cancer or other serious diseases by maintaining proper oral health can contact Dr. Rice and his team at the Advanced Laser Gum Surgery- Institute of Washington at http://www.advancedgumsurgery.com.
About The Doctor
Advanced Laser Gum Surgery- Institute of Washington is a periodontal practice offering patients personalized dental care in Rockville, Maryland since 1981. Dr. Steven N. Rice received a Doctor of Dental Surgery degree from the University Of Maryland School Of Dentistry. He continued his education as a General Practice Resident in the United States Army, where he was awarded a Medal of Commendation. He studied periodontics at the Medical College of Georgia and was recognized as a Diplomate of the American Board of Periodontology upon completion. Dr. Rice is part of one percent of dental professionals providing the LANAP FDA cleared laser procedure for gum disease treatment. To learn more about Advanced Laser Gum Surgery Institute of Washington and their dental services visit their website at http://www.advancedgumsurgery.com and call (240) 747-7355.