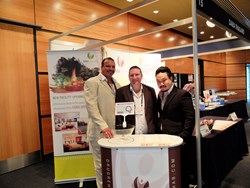 Brisbane, Australia (PRWEB) November 27, 2013
Drug and Alcohol Rehab Asia (DARA) was pleased to be a supporter of this year's Australasian Professional Society on Alcohol and other Drugs (APSAD) conference. The conference was held at the Brisbane Convention and Exhibition Centre, Brisbane, Australia from November 24-27, 2013.
The APSAD conference brings together professionals in the drug and alcohol addiction field to discuss and learn about prevention and treatment for addiction disorders. The topic for this year's conference was Bridging Knowledge and Practice, and the focus was how to implement evidence-based medicine in every day practice. It featured international and national speakers that presented on topics relevant to those in the drug and alcohol treatment industry.
APSAD has been working to prevent and treat drug and alcohol abuse since 1981. The organization's website states that it is "dedicated to raising awareness about the problems related to the use of alcohol and other drugs, and to promoting improved standards in clinical practice and in research into this and allied subjects." The APSAD annual conference helps professionals gain new information about treatment methods for addiction disorders, and it provides a network in which professionals can improve their standards in clinical practice.
To learn more about APSAD, visit http://www.apsad.org.au/.
DARA was an exhibitor at the conference this year and the staff at DARA is happy to partner with APSAD. APSAD promotes evidence-based practices for rehab and helps professionals strive for the very best standards in the addiction treatment field. Professionals at DARA firmly believe in keeping informed about the latest research and implementing effective treatment methods for clients.
DARA is Asia's first and leading international treatment provider for drug and alcohol rehabilitation. Located on the beautiful island of Koh Chang, Thailand, DARA provides clients with a serene setting for recovery. The luxurious private villas at DARA have a stunning view of the sea. Therapists at DARA are experienced professionals, and staff uses evidence-based therapeutic methodologies for recovery. Each client's treatment program is designed with their individual needs in mind, in order to achieve the best results.
For more information about DARA and its programs, visit http://www.dararehab.com/.