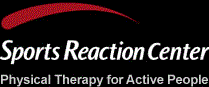 Injuries are inevitable in sports, but how they are treated determines how quickly and successfully athletes will return to play.
Bellevue, WA (PRWEB) November 27, 2013
With the National Football League (NFL) season in full swing, staying in prime physical condition is of the utmost importance for players—but unfortunately for those athletes, they are becoming increasingly vulnerable to a common injury: a torn anterior cruciate ligament (ACL), which is located in the knee. While recovering from an injured ACL can be a challenging and frustrating experience, Sports Reaction Center (SRC), a sports physical therapy center which attracts amateur and professional athletes both locally and nationally, helps clients to maintain their aerobic conditioning when they are injured. With the help of Alter-G, an innovative treadmill created by the National Aeronautics and Space Administration (NASA), SRC implements a combination of weight, speed and grade adjustments that allows athletes to train pain-free.
In 2013 alone, there have been a total of 45 documented anterior cruciate ligament tears among NFL players; the injury has stricken both second-string and star players, all of whom have seen their season cut short (1). Because ACL injuries typically signal a lengthy absence from sports participation, as well as painful and expensive surgery and rehabilitation, SRC has utilized Alter-G to make the recovery process as comfortable as possible.
Produced by NASA, the Alter-G technology uses air pressure to relieve an athlete's body weight, permitting him or her to run on a treadmill with reduced weight while still maintaining pure running form. The unique experience of running at a lighter weight reduces stress on the joints by as much as 80 percent. The Alter–G allows injured athletes to build a tolerance for weight gradually and with adequate control.
"Competitive athletes are constantly putting strain on their bodies, so it's important that they properly recover from their injuries; but it's also crucial that they maintain their fitness level for a smooth return to their sport once the injury is healed," said SRC founder, Neil Chasan. "At SRC, we combine science with professional expertise to help athletes recover, and the Alter-G is a valuable tool that helps our clients stay aerobically fit during the recovery process."
In addition to Alter-G, SRC has implemented a comprehensive ACL Risk Assessment and Prevention Program, which has been scientifically proven to reduce the risk of injury by as much as 88 percent, improving current and long-term health. The program is individualized, and athletes are coached in mastering each phase before moving on to the next. The program involves a dynamic video analysis of risk, as well as five phases of progressively more challenging exercises over a three-month period to reduce the risk of ACL rupture. This helps at-risk athletes to improve their body mechanics, lessening the chances of experiencing injury.
SRC will implement its Alter-G program across the Eastside Youth Football (EYF) youth soccer program starting in 2014.
SRC's clients include triathletes and long-distance runners, multiple athletes who have competed on the world stage and qualified for the Olympic Trials in track and field, as well as NFL and Major League Baseball players.
"Injuries are inevitable in sports, but how they are treated determines how quickly and successfully athletes will return to play," Chasan said.
For more information on the services offered by Sports Reaction Center, visit http://www.srcpt.com.
About the Sports Reaction Center (SRC):
Based in Bellevue, Washington, and attracting athletes of all levels from the Bellevue, Seattle, Kirkland and Redmond areas, as well as from around the United States, the Sports Reaction Center (SRC) was founded by Neil Chasan in 1997. SRC provides concussion management service for youth football, adult and youth rugby, and for individuals, and performs sports physical therapy services that incorporate innovative technologies such as Dynavision, Core Control Cooling Systems, and the NASA-developed Alter-G. The clinic additionally offers concussion management and biomechanical assessment. SRC's clients include multiple athletes who have qualified for the Olympic Trials in Track and Field, as well as marathoner Mike Sayenko, Olympic hurdler Virginia Powell, and NFL, NBA and MLB players. The clinic also works with area organizations such as Club Northwest, VO2 Multisports, and the Seattle Rugby Club. A graduate of the University of Washington's physical therapy program in 1982, Chasan has consulted with members of the High Performance Team at U.S. Olympic Training Center, U.S. Rugby Sports Medicine, and Alter G. Chasan is the author of the book Total Conditioning for Golfers, and the creator of the video "The Swing Reaction System". He has also published "Pain Free Back", an iPhone application. A clinical faculty member of the University of Washington's physical therapy program since 1990, Chasan teaches and consults with physical therapists around the world.
1.Kephart, Tim. "Through 8 Games, 45 Players Lost To ACL Tears In NFL." Miami.cbslocal.com. CBS, 01 Nov. 2013. Web. 08 Nov. 2013. miami.cbslocal.com/2013/11/01/through-8-games-45-players-lost-to-acl-tears-in-nfl/.