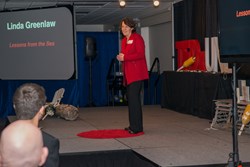 I know what inspires me...I am inspired by anyone who loves what they do. - Author Linda Greenlaw
Biddeford, Maine (PRWEB) November 27, 2013
University of New England's first TEDx UNE event held November 22 on UNE's Biddeford Campus explored the theme "Inspire" through dynamic speakers including author Linda Greenlaw, Hope Elephants' Andrew Stewart, and UNE's own Ed Bilsky, Barry Costa-Pierce and David Livingstone Smith.
Founded in 1984 as a one-time event to discuss "ideas worth spreading," TED evolved into an annual conference in 1990 with talks addressing topics in technology, entertainment and design. TED speakers deliver engaging and informative talks within an 18-minute time frame; to date, thousands of TED talks have been viewed more than a billion times around the world. Created in the spirit of TED's mission, TEDx events are independently organized, community-based talks.
Student Aidan McParland, UNE '15 medical biology and oceanography, led the drive to bring TED to UNE's campus via TEDxUNE. McParland completed the lengthy application process and was accepted as an official organizer earlier this year. The TEDxUNE team also includes fellow UNE students William Bushey, Drew Fortin, Caleb Howard, Kristina Michaud, Ioana Panaitiu, Spencer Ross and Jenna Selander, who together with McParland planned the inaugural event and introduced the evening's speakers.
"We established TEDxUNE because we believe in the inspirational nature of TED talks," McParland said as he greeted the capacity crowd. He added that he believes UNE is one of the only undergraduate TEDx organizations in the country. The event was also live-streamed and taped for posting online at a later date.
The TEDxUNE event included both presenters and TED Talk videos. Speakers included:

David Livingstone Smith, Ph.D., University of New England Professor of Philosophy, who spoke about "Inspiration for Evil." Smith is the author of Less Than Human: Why We Demean, Enslave, and Exterminate Others and Why We Lie: The Evolutionary Roots of Deception and the Unconscious Mind. Less Than Human won the 2012 Anisfield-Wolf award for non-fiction. Smith explained how dehumanization is a mechanism used to commit acts of terrible atrocity, such as genocide, that otherwise would be psychologically impossible.
Andrew Stewart, Director at Hope Elephants, the Maine-based organization that provides care for injured and aging elephants, who asked, "Are Elephants Worth Saving?" His response to the rhetorical question was, of course, yes, and Stewart proceeded to discuss the challenges of overcoming a $1 billion illegal ivory market to save elephants from extinction. Explaining that "conservation isn't about animals, it's about people," Stewart challenged the audience to "inspire everyone you speak to save the elephants…because if we lose elephants, we've lost a piece of our humanity."
Ed Bilsky, Ph.D., University of New England Vice President for Research and Scholarship; Professor of Pharmacology, and Director of the Center for Excellence in the Neurosciences, who discussed "Lighting the Song with Sense and Color." Bilsky outlined the significant societal impact of chronic pain, sharing personal insights, treatment options and challenges, devastating economic consequences, and the importance of collaborative team-based perspectives.
Barry Costa-Pierce, Ph.D., University of New England Doherty Professor, Director of the UNE Marine Science Center, and an expert on ecological aquaculture, spoke about "Human Foods from an Unnatural Sea." Costa-Pierce has authored over 150 publications, including 25 peer-reviewed books and monographs in aquaculture, fisheries and aquatic ecosystems, and sustainability science. Saying "there's no magic bullet," Costa-Pierce discussed the challenges, innovations and future opportunities facing fisheries and aquaculture development.
Linda Greenlaw, the United States' only female sword fishing captain and the author of three New York Times bestselling books about her life as a commercial fisherman, who shared her "Lessons from the Sea."
Greenlaw told personal stories about her "idyllic childhood" growing in Maine, where she was permitted "to swear like a pirate, but couldn't say 'hate' or 'shut up' or chew gum." When other kids were learning how to ride a bike, Greenlaw learned how to row a boat. At the age of 19, she "fell in love with my life" and began fishing to pay bills and tuition. A Colby graduate with a degree in English, Greenlaw said her mother feared she was wasting her education. "Education can never be wasted,"Greenlaw told the audience. "I used every bit of my education" on the boat and writing her books, adding that no one was more surprised by her success than she was.
"I know what inspires me, Greenlaw said as she closed the TEDxUNE evening. "I am inspired by anyone who loves what they do."