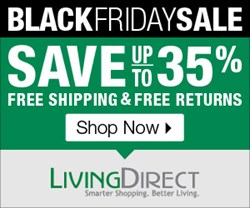 Austin, TX (PRWEB) November 29, 2013
LivingDirect.com is offering elite Black Friday savings all weekend long. Holiday gift shoppers can save up to 35% on every product found on their website. Along with these savings, buyers can also eliminate high shipping costs with free shipping and returns. With the wide range of products available through Living Direct, it is a one-stop shop for gift-giving season.
The easiest way to find the perfect gift on LivingDirect.com is to check out the "Best Gift Ideas" section which highlights all of the highest rated products across the entire LivingDirect.com family of websites.
Some of the most popular deals during the Black Friday Weekend Sale include:

The Artisan Series stand mixer from KitchenAid is an indispensable tool for any kitchen. With the growing number of additional attachments, it can handle anything from brownies to fresh pasta and bread to mashed potatoes.

Espresso machines remain one of the most popular holiday gifts this holiday season. With the LivingDirect.com price match guarantee, there won't be a better deal on an espresso machine all winter long.

All year long there will be a different way to use the Wagan Personal Thermo Fridge and Warmer. It is ideal for everything from spring picnics and summer barbeques to winter tailgating or simply transporting food to a family gathering.
Kari Hall of LivingDirect.com stated, "This year we are offering some of the steepest discounts and savings ever. We have reduced our everyday low-prices for a limited time to celebrate the holiday season. We understand some people are still hesitant to shop online for their holiday gifts so we are also offering shipping and returns all weekend long, at no cost, in conjunction with huge savings."