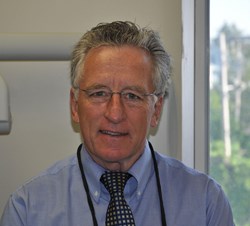 Braintree, MA (PRWEB) November 27, 2013
Dr. Thomas Mone, a periodontist in Braintree, MA, has joined efforts during Pancreatic Cancer Awareness Month by educating patients on the connection of pancreatic cancer and gum disease, and of the benefits of the Laser Assisted New Attachment Procedure, or LANAP, for eliminating gum disease.
New studies show the link between gum disease and pancreatic cancer. As the fourth leading cause of death in America, pancreatic cancer still does not have any specific known causes or treatments. However, there are a number of risk factors that have been identified, including smoking cigarettes, obesity, and insulin resistance. Recent studies also show a link with periodontal or gum disease, which is a risk factor that most people can gain control over by treating gum disease when it occurs.
The bacteria that may be responsible for the increased risk of pancreatic cancer are much more prevalent in patients that have gum disease. This is the result of higher levels of oral bacteria coupled with high levels of nitrosamine, which are both carcinogenic in nature. LANAP targets this harmful bacteria and eradicates it as well as the diseased tissue, leaving healthy tissue in the mouth.
Dr. Mone has been practicing as a periodontist in Braintree, MA, and the surrounding area for many years. He was the first periodontist on the South Shore to offer LANAP, which is a laser treatment that has been cleared by the FDA for treating periodontitis. Having experience in LANAP has allowed his practice to assist many patients in treating gum disease in a manner that is much less invasive and more comfortable for them, thus helping to reduce this risk factor for pancreatic cancer.
For more information on Dr. Mone and LANAP, please visit the http://www.braintreeperio.com.
About the Doctor
Mone Periodontics is a periodontal practice offering personalized dental care for patients in Braintree, MA. The leading periodontist at the practice, Dr. Thomas Mone, graduated from the University of Massachusetts with a bachelor's degree, and then went on to attend the University Of Pennsylvania School Of Dental Medicine and graduated at the top of his class. He completed his periodontal training at Boston University Goldman School of Graduate Dentistry. Dr. Mone is part of one percent of dental professionals providing the LANAP FDA cleared laser procedure for gum disease and periodontal treatment. To learn more about Mone Periodontics and their dental services visit their website at http://www.braintreeperio.com and call (781) 348-9925.