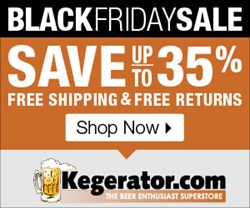 Austin, TX (PRWEB) November 29, 2013
It is time to save big on all of the most popular kegerators, conversion kits, and home brewing supplies during the Kegerator.com Black Friday sales event. These discounts are available beginning on Black Friday and extend throughout the entire weekend. Kegerator.com is part of the Living Direct family of websites and is highly regarded for their excellent customer service which is especially important during the holiday season.
Throughout Black Friday weekend, shoppers can save up to 35% on every product throughout the Kegerator.com website. Free shipping and returns are included with every order. Some of the most popular products being purchased at Kegerator.com this holiday season include:

A kegerator can easily be the best give someone receives during the holiday season. This year, one of the most popular items is the EdgeStar Ultra Low Temp Full Size Kegerator & Keg Cooler. This ultra-low temp system is ideal in the home or in a commercial setting. It is capable of reaching temperatures in the low 30's which makes it one of the coldest kegerators on the market. The EdgeStar full-sized kegerator boasts an excellent value by combined the designed-to-fit refrigerator with commercial-grade, NSF-approved components made in the USA.

Conversion kits are an easy way to build a custom kegerator without sacrificing quality and reliability. A popular holiday gift for beer enthusiasts is the EdgeStar Ultra Low Temp Refrigerator for Kegerator Conversion Kit. This kit was specially designed to build a custom EdgeStar kegerator. It is works with a variety of beer line components and hardware included the popular EdgeStar KC2000.

It doesn't matter if this gift is for a seasoned home brewer or someone who is just getting started; the Gold Complete Beer Equipment Kit makes an ideal holiday gift. It includes a 20 quart stainless Steel Brew Pot, 7.8 gallon pot, bi-metal dial thermometer, triple scale hydrometer, and much more.
For more details about the upcoming sale or to learn more about the great holiday gifts available, visit Kegerator.com or any of the other popular websites in the Living Direct family.