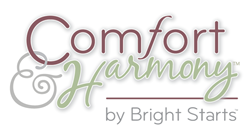 (PRWEB) November 29, 2013
Alec Baldwin's wife Hilaria gave birth to the couple's first child on August 23. Two months later she was looking healthy and fit at a premiere in New York City. The new mom said she was exclusively breastfeeding and back at work, reported E-online (10.25.13). Comfort & Harmony™, the company behind the mombo™ nursing pillow congratulates the new mom.
New moms, however, are not always confident when it comes to breastfeeding. Mothers worry that they are not making enough milk or that the baby is not latching on well. Other common concerns include fussy infants and those who refuse to breastfeed, as well as nipple or breast pain.
Using the mombo™ nursing pillow can help with the positioning and latch of a baby. This can help prevent problems with nursing and make it a more comfortable experience overall for moms and their babies. Uniquely, the mombo features a two-sided design called Firm2Soft™. Each side provides a different kind of support. The firm side provides extra support while baby is breastfeeding or sleeping. The soft side of the pillow is cozy for lounging, tummy time and, eventually, sitting up. Unlike any other nursing pillow on the market, mombo comes with a removable vibration unit.
Breastfeeding is also believed to help moms lose weight following the birth. According to a 2008 study discussed on WebMD.com, women who breastfeed lose approximately 4.4 pounds more than women who do not breastfeed at six months after giving birth.
Alec Baldwin recently launched a new MSNBC talk show, "Up Late With Alec Baldwin".
About Comfort & Harmony™
The Comfort & Harmony brand is designed to exceed baby's comfort needs while appealing to mom's sense of style. Thoughtfully designed to create a supremely cozy environment for baby in sweet and heartwarming fashions that mom adores, the brand offers nursing pillows, swings, bouncers, shopping cart covers and rockers. Every Comfort & Harmony product incorporates nurturing features, such as ergonomic designs and plush fabrics that pamper mom and baby where it's needed most.
Headquartered in Atlanta, Georgia, Comfort & Harmony is one of the seven brands under Kids II, Inc., manufacturer, designer and marketer of toys and baby gear. Visit http://www.kidsii.com.
About Kids II, Inc.
Kids II has been inventing and reinventing baby and infant toys and gear for more than 40 years and has quickly become one of the world's fastest growing baby product companies. Headquartered in Atlanta, Kids II spans globally with operations in six continents serving customers in more than 70 countries. Driven by innovation, design and a comprehensive brand portfolio, Kids II is the next generation leader of baby and infant products.
Kids II designs, markets and distributes more than 400 unique baby and infant products, selling more than 22.8 million items per year. On average, it launches 125 new products a year. Under its flagship brands, Kids II has produced more than 100 award-winning products.
The brand portfolio strength runs deep under the Kids II umbrella, which includes its signature brands Bright Starts™, Ingenuity™ and Comfort & Harmony™, as well as licenses to design and manufacture products for Disney Baby™, Baby Einstein™, Oball™ and Taggies™.
Kids II's international affiliate operations are located in Australia, Canada, Europe, China, Hong Kong, Japan, Mexico and South Africa. Visit http://www.kidsii.com.