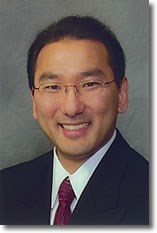 Fremont, CA (PRWEB) December 02, 2013
This November, Dr. Colin Yoshida is supporting Pancreatic Cancer Awareness Month by calling attention to the correlation between pancreatic cancer and gum disease. Research indicates that people with periodontal disease have a greater risk of developing pancreatic cancer, which is why it is important that people with symptoms like inflamed or bleeding gums visit Dr. Yoshida to find out if they need treatment.
Periodontal disease has been linked to many health problems, and research indicates that pancreatic cancer is among them. Recently published in an article on http://www.doctoroz.com, a Harvard School of Public Health study conducted more than five years ago found that the risk of pancreatic cancer was 63 percent higher in men with gum disease, even when other factors were controlled for. A Brown University study published last year found that the pancreatic cancer risk doubled in people who had high levels of antibodies for one type of periodontal bacteria.
None of these studies have established causality, but Dr. Yoshida believes that it is important for his patients to be aware of the correlation. According to the American Cancer Society, an estimated 45,220 people will be diagnosed with pancreatic cancer by the end of this year, and an estimated 38,460 people will be killed. There are many risk factors for pancreatic cancer, including age, weight, and certain health conditions. Dr. Yoshida wants patients to realize that gum disease is also associated with an increased risk, and that heeding symptoms like inflamed or bleeding gums could have life-saving effects.
To help people with periodontal disease, Dr. Yoshida performs the Laser Assisted New Attachment Procedure (LANAP). This advanced treatment is FDA-cleared and has a high success rate, but many dental professionals do not yet offer it. Instead of cutting away gum tissue, Dr. Yoshida uses a laser to remove periodontal disease. This reduces trauma and recovery time for patients while delivering the benefits of normal gum surgery. Dr. Yoshida advises all of his patients to set up a consultation if they notice issues like sore or bleeding gums, since leaving periodontal disease untreated for too long can lead to many health problems. Anyone who notices symptoms of periodontal disease can call Dr. Yoshida's office to get more information or to schedule an appointment.
About the Practice
Fremont Dentistry is a general practice offering personalized dental care for patients in Fremont, CA. Dr. Colin Yoshida graduated from University of the Pacific School of Dentistry and is part of one percent of dental professionals providing the LANAP FDA cleared laser procedure for gum disease treatment. To learn more about Fremont Dentistry and their dental services visit their website at http://www.fremontdentistry.com and call (510) 648-3184.