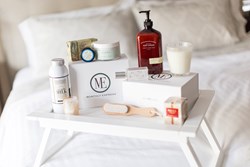 It's important for the discerning customer to buy a special gift with lasting value, something with emotional significance or originality.
New York, NY (PRWEB) November 27, 2013
Predictions for holiday season sales spell tidings of good cheer for retailers and consumer brands. Industry groups and consulting firms including Luxury Market Insights have released trend reports echoing one shared takeaway this year: things are looking up for the affluent spenders and more importantly, for retailers in the 2013 holiday season.
The forecasts average a predicted growth in overall holiday spending of 2% to 4%, with the National Retail Federation predicting a 3.9% increase in total holiday spending, while ShopperTrak predicts a slight 2.4% increase. Nationally-recognized accounting firm Deloitte has projected a 4% to 4.5% rise in overall holiday spending, giving a nod to the increase in luxury sales projected for the 2013 Thanksgiving through Christmas period. LuxuryDaily, an industry reporting group for the luxury market, has reported an expected rise of 7.7% - a much higher figure than most other surveys of overall holiday spending.
The spike in the luxury market will mainly be attributed to households with annual income up to $450,000 and $150,000 in discretionary income, according to the 2013 Holiday Forecast Study by the Survey of Affluence and Wealth, a collaboration between American Express Publishing and the Harrison Group.
Both new and established luxury brands are well into their preparation for the 2013 festive season. Small and Mid-sized Enterprises (SMEs) face high competition for the affinity and attention of customers against big box retailers. Upticks in marketing industry reports show these smaller companies are leveraging smarter and more agile communication strategies by taking their message online to boost consumer awareness.
One example of such a company is MonthlyExpress, a premium startup based in Florida and New York, offering a unique proposition for gift-givers this season. The freshly debuted luxury brand charges $129/month for its monthly membership, a service which gives members access to a carefully vetted collection of high end spa and boutique products from around the world - delivered to their door. The Founders of the new startup company are unfazed by what some may call an inordinately high subscription fee.
"It's important for the discerning customer to buy a special gift with lasting value, something with emotional significance or originality," says MonthlyExpress CEO Travis Loring. "What we really do is create moments of ME time. And that is priceless for [any] woman."
That sentiment was the same expressed by Jim Taylor, Vice Chairman of Harrison Group and the 2013 Holiday Forecast Study Director, in a recent interview as a key takeaway of the study when he explained the importance in 'enduring value' among affluent gift-givers and buyers.
Time will tell if the positive reports for the luxury U.S. market are accurate. For now, the excitement among retailers and publishers as the holiday season nears is palpable.
ABOUT MONTHLYEXPRESS
MonthlyExpress is a membership-based subscription service offering luxurious parcels of soul-nourishing, boutique products, delivered monthly to your door. Members discover boutique, hard-to-find, and even limited-supply high-end products from shops and brands all over the globe with each shipment. These carefully curated and finely crafted collections make for the perfect gift for the haute hostess, an appreciated colleague, or a special lady - be it sister, Mom, or a dear friend during the holiday season. MonthlyExpress is a way to savor replenishing moments of ME time, any time. For more information and to gift a membership, visit MonthlyExpress online at http://www.monthlyexpress.com/gift-it. They can be found on Facebook at http://www.facebook.com/monthlyexpress and on Twitter at @MonthlyExpress.