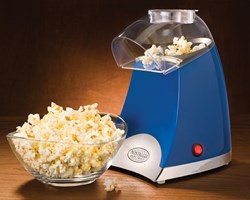 "It's a very understated design but the pop of color makes it stand out, and that's what is so appealing about it."
Green Bay, WI (PRWEB) November 29, 2013
Nostalgia Electrics is known for its bright colors and past-inspired designs, but has also recently looked to today—and the future—for its style inspiration. The company's newest hot air popcorn popper has a swooping design and comes in three colors consumers will love.
Its most contemporary design yet, Nostalgia's new hot air popper will delight consumers looking for a bright addition to their kitchen, den or dorm. Available in bright primary colors of red, blue and yellow, this popper adds life to any décor.
"We are among the top sellers in popcorn and, with this unit, we looked to do a design that was contemporary yet still a lot of fun," said Rob Houston, Director of Product Development at Nostalgia Products Group. "It's a very understated design but the pop of color makes it stand out, and that's what is so appealing about it."
The new popper is as easy to use as it is eye-catching. Using the kernel cap that is a part of the unit's design, it's simple for consumers to measure the perfect amount of popcorn. Soon enough, they'll be enjoying up to eight cups of popcorn air-popped to perfection.
"What's really great about hot air poppers is that you end up with a healthy snack that all ages can enjoy without worry," Houston says. "There is no oil, and no additives. You know exactly what you're eating."
The new Nostalgia Electrics Hot Air Popper is now available online and at retailers such as Best Buy.
SPP500 Series Product Features:

Available in 3 bright colors: red, blue and yellow
Pops up to 8 cups per batch
No oil needed: hot air pops healthy snack
Included kernel cap to measure perfect kernel amount
Recipes included in instruction manual
The Hot Air Popper by Nostalgia Electrics is distributed by:
Nostalgia Products Group, LLC
1471 Partnership Dr.
Green Bay, WI 54304-5685
About Nostalgia Products Group, LLC:
Nostalgia Products Group, LLC, designs, manufactures and markets the Nostalgia Electrics brand of small electric appliances, a wide range of innovative products with a history of exciting consumers and retailers alike.
NPG products are sold through all major channels of distribution from both within the United States and to over 30 other countries. Retail and e-retail sales include all major department store chains, home shopping networks, catalogs and e-commerce companies, and the company's products carry the ETL, UL, GS and SSA electrical approvals internationally. In addition to product development, NPG's services include sales, marketing, warehousing and distribution. For more information, please visit Nostalgia Products Group, LLC online at: http://www.nostalgiaelectrics.com.
For more information, please contact:
Sales and Marketing
Nostalgia Products Group, LLC
Phone: 920.337.9800 Fax: 920.337.9984 E-mail: gbond(at)nostalgiaelectrlcs(dot)com
For media inquiries, please contact:
Karilyn Robinson
Nostalgia Products Group, LLC
Phone: 805.337.9800 x153 E-mail: krobinson(at)nostalgiaelectrics(dot)com
###