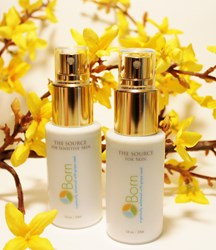 We want to make the Born holiday shopping experience convenient and enjoyable.
Atlanta, GA (PRWEB) December 03, 2013
With the holiday shopping season in full force, Born Skincare, the leading all-natural cosmetic solutions line, is treating customers to complimentary shipping and a special gift with purchase throughout the month of December.
"The hustle and bustle of the holiday shopping season can be stressful," says Born Skincare creator Gloria Barghi. "We want to make the Born holiday shopping experience convenient and enjoyable."
Customers who purchase any full-size organic skincare product online will receive a complimentary travel size sample of one of Born's best-selling oils, The Source for Muscles. A luxury must-have skincare product, The Source for Muscles boasts its star ingredient, muscadine oil, to help relieve sore muscles, neck and back pain. Muscadine oil is rich in nutrients and is miraculous for body aches and pains because they are a natural anti-inflammatory. Using all natural ingredients, The Source collection provides an anti-aging solution for all skin types.
Customers can shop the all-natural skincare line online at http://www.bornskincare.com/products. Born Skincare products promise toxic-free and organic formulas and results that leave skin feeling smooth, hydrated and youthful.
About Born Skincare:
Born Skincare is a family-driven business that has a deep conviction in what we do, which makes us proud to put our name on every Born Skincare product. As a family, we believe that being healthy is paramount, and that starts with consuming the right foods and nourishing the skin. We have devoted years of research towards maximizing the health and beauty benefits the grape provides. The results of our tireless commitment are in every bottle of Born products we produce. For more information, visit bornskincare.com, Twitter @BornSkincare, Facebook, Pinterest at pinterest.com/BornSkincare/ and Instagram @BornSkincare.