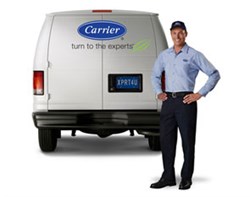 Pittsburgh, Pennsylvania (PRWEB) November 29, 2013
Residents in the Northeast may see temperatures about 3% colder than a year ago according to the Department of Energy, which means the need for heat will go up too. The Farmer's Almanac agrees and even suggests that America's favorite football game, The Super Bowl, could end up covered in snow. Metro Heating and Cooling, a company which provides furnace service in Moon Township Pennsylvania, advises PA home owners to start preparing now to help make sure they stay warm if the temperatures get frigid.
Call your local furnace repair company for a tune-up on your system. Repair calls often spike in the midst of the coldest days which may mean longer wait times for repair services and more time spent sitting in the cold. Schedule a visit now to avoid a frustrating and uncomfortable situation in the middle of winter. In addition, extreme weather conditions can prevent repair companies from reaching customers at all so it is best not to wait.
Keep warm air in and cold air out by sealing windows and doors properly and covering older windows with plastic or use energy-efficient window coverings. Any air leaking in or out of the house forces heating systems to work harder to keep the house warm.
Adding insulation can be a small investment, but it can pay off in the end. Even a layer of insulation in the attic or an insulating wrap around duct work can all help save energy and make homes feel warmer.
Taking steps now to prepare for an extra-cold winter can help save money and prevent any time sitting in a cold house. For more helpful tips to keep your home warm this winter, contact Metro Heating and Cooling at 412-253-2355 or visit http://metroheatingcooling.com/.
About Metro Heating and Cooling
Metro Heating & Cooling is a family owned and operated HVAC company serving the Pittsburgh and surrounding areas since 1957. Metro Heating and Cooling is proud to have been #1 on Angie's List since 2005 and one of the top Carrier dealers in the Pittsburgh area.