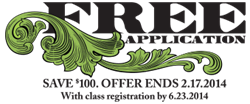 The ADP is offering a remarkable incentive for students with certain majors.
McMinnville, OR (PRWEB) November 27, 2013
Linfield College announces their Adult Degree Program is offering two extraordinary discounts for students who apply for admission by February 17, 2014. Linfield is waiving the application fee for all applicants to the Adult Degree Program who enroll in spring or summer online classes. In addition, Linfield's Adult Degree Program invites students with certain majors to take their first course entirely free of charge in the 2014 spring or summer semester.
Linfield College's Adult Degree Program (ADP) has featured an application fee waiver event in past years, usually held in January. This year, the program decided to get a jump start on the holiday season by offering the free application from November through the start date of spring semester. This promotion is one more way Linfield College follows through on its commitment to keep college tuition affordable for adult students.
With this promotion, prospective students who apply for admission and begin their Linfield online courses in the 2014 spring or summer semesters will not have to pay the application fee that is normally required. This translates to savings of $100 for students applying for a degree program, and savings of $50 for students applying to a certificate program.
Linfield encourages students to plan ahead for their 2014 New Year's resolutions. Not only will students who apply now save the application fee, but they will launch 2014 with a return to school to complete their degrees. Whether a student is considering a return to college as an adult or pursuing a degree for the first time, the special discount can help move the process forward.
The ADP is offering a remarkable incentive for students with certain majors. For students majoring in in the Accounting, Marketing, Business Information Systems, Management, and International Business degrees, the ADP is waiving the tuition cost for their first course, the Re-entry Colloquium, a one credit online class that normally costs $435. The Re-entry Colloquium teaches students techniques to handle academic and personal challenges common to adult students, such as skills for successful online learning, study skills, and library research. It awards students with one credit that counts toward the completion of each of these degrees. Students who take the one credit Re-entry course along with at least one academic course of three or more credits, will save the $435 plus the $100 application fee, for a total savings of over $500. Combining this discount with the ADP's tradition of generous college credit for life experience means students who attend Linfield College can save significant amounts in college tuition.
The offers of the free application and re-entry class are valid for applications submitted by February 17, 2014. These offers must be taken advantage of in the 2014 spring and summer semesters.
About Linfield College Adult Degree Program
Chartered in 1858, Linfield College is one of the first colleges in the Pacific Northwest and is regionally accredited by the Northwest Commission on Colleges and Universities. The Adult Degree Program offers adults the opportunity to earn a bachelor's degree or certificate online in ten fields of study.
Online programs offered by Linfield College Adult Degree Program include an online management degree, business information systems degree, accounting degree, online marketing degree, RN to BSN degree and international business degree and certificates in post baccalaureate accounting, human resource management, computer information systems, and marketing.