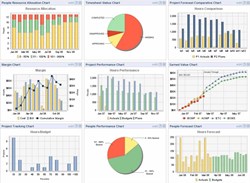 Dulles, VA (PRWEB) November 27, 2013
Unanet, a developer of services automation software that helps organizations manage people and projects for improved profitability, has announced continued market adoption of recently released enhancements for billing, revenue recognition and invoicing integrated with its Professional Services Automation software.
More than 1,000 project-based organizations such as government contracting, professional services, product development, internal IT organizations, and the non-profit sector, have adopted Unanet.
Richard Hayden, Unanet Vice President of Marketing and Product Management commented "Unanet recognized several years ago that a fully-featured Professional Services Automation solution needs to include support for Engagement Management, Project Accounting, and Invoicing. Customers highlighted the need for project managers and accounting personnel to be able to identify the difference between billed and unbilled charges as well as recognized and unrecognized revenue in a timely manner, and not after month-end close.", Hayden continued.
Unanet's recent releases have focused on this key area of functionality including robust support for Fixed Price, Time & Materials and Cost Plus contracts. Authorized users can define fixed price schedules for billing and revenue recognition, pre-bill labor on projects and then earn invoiced amounts through submitted timesheets. Multiple, flexible invoice formats can be defined at summary and detailed levels, and can include a mix of fixed price, approved billable labor and expenses, pre-bill amounts and other items, with multiple projects on a single invoice. Cost Plus format invoices can show or hide the detail of indirect costs, protecting sensitive cost pool rates from partners, if required.
The Unanet system provides a number of reports on summary and detailed billing and revenue data, as well as invoice status and journal entries. Project accounting reports and graphical charts allow authorized users to see direct costs, burdened costs, revenue and margin without need for access to the financial system. Unanet integrates with down-stream systems for data such as journal entries and accounts receivable. This lets customers manage the project lifecycle in Unanet, including billing and invoicing, and then automatically generates invoices in QuickBooks to drive Quick Books revenue reporting functionality. Exporting data to Microsoft Excel for custom formats or generating SF-1034/1035 government invoice formats can also be performed.
Through adopting Unanet billing and invoicing functionality, organizations have seen significant efficiency improvements. Integrating billing into the regular project management lifecycle, rather than as a separate accounting responsibility enables invoices to flow naturally and efficiently from the periodic processes for project statusing and timesheet approval. By performing invoicing within the project system, administration effort is reduced, errors are eliminated and invoices are generated more quickly, resulting in reduced Days Sales Outstanding and improved cash flow.
Richard Hayden concluded "With these enhancements, Unanet services automation software offers project-based organizations unique capabilities for engagement management, project accounting, and invoicing. As one Unanet customer, a Financial Controller with a company making products for the medical, military and aerospace markets, said 'Why would anyone not use it?'"
About Unanet:
Unanet is a leading provider of Cloud or On-Premise software for project-based organizations. Unanet delivers skills management, resource planning, budgeting & forecasting, time & expense reporting, billing & revenue recognition, and project management reporting. Over 1,000 organizations rely on Unanet to maximize staff utilization, reduce administrative costs by 90%, improve invoicing by 10X, and support forward decision-making for improved operations.