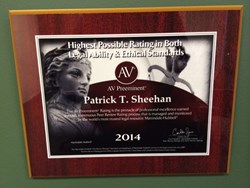 I am thankful to my peers who nominated me for this distinction and am proud to have earned this elite rating
Elmhurst, IL (PRWEB) December 03, 2013
Patrick T. Sheehan, a tax lawyer based in Elmhurst, IL whose primary area of practice is IRS defense, has earned the Martindale-Hubbell AV Preeminent rating, the highest possible rating an attorney can achieve for both ethical standards and legal ability.
This rating represents the pinnacle of professional excellence and is achieved only after an attorney has been reviewed and recommended by their peers, namely members of the bar and the judiciary. Congratulations to Patrick T. Sheehan are in order for achieving the AV Preeminent Rating. Patrick comments, "The Martindale-Hubbell AV Preeminent Rating is a credential highly valued and sought after in the legal world. This rating used to be a sort of secret among attorneys who used it when they needed to hire a lawyer they did not personally know. Now, thanks to the Internet, the rating is a great way for anyone, from lawyers to ordinary people who need legal assistance, to help them choose a qualified lawyer. I am thankful to my peers who nominated me for this distinction and am proud to have earned this elite rating." As a result of this honor, American Registry LLC, has added Patrick T. Sheehan to The Registry of Business and Professional Excellence.
For more than 130 years, lawyers have relied on the Martindale-Hubbell AV Preeminent rating while searching for their own expert attorneys. This trusted rating can be seen by viewing a lawyer's rating on Lawyers.com or martindale.com. Patrick T. Sheehan is a former IRS attorney and is the owner of Patrick T. Sheehan and Associates, Attorneys at Law, P.C. Mr. Sheehan's practice focuses exclusively on assisting individuals and businesses with their tax disputes before the Internal Revenue Service and the Illinois Department of Revenue. Patrick T. Sheehan and Associates is the largest tax dispute resolution law firm in DuPage County, Illinois.
For more information regarding Patrick T. Sheehan and Associates or the services they offer, call 877–4-IRS-LAW or visit their website. "If you have unfiled tax returns or owe money to the IRS, please call me," Sheehan advised. "We can help." Call us before the IRS calls you.
Patrick T. Sheehan is available for guest blogging. Please contact Idea Marketing Group and they will help facilitate.