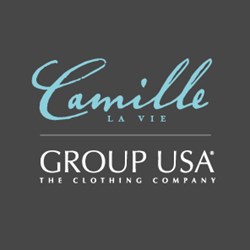 It's a time to have some fun when shopping for holiday party looks. After all, this season is all about sparkle!
Secaucus, NJ (PRWEB) November 29, 2013
With the Holiday 2013-2014 season coming close, Camille La Vie & Group USA are set to launch a special party dress collection in the season's most talked-about trends: from decadent lace dresses, retro A-line skirts, body-conscious long dresses with illusion details and embellished looks with beading and sparkle. With these must-have trends making their way into the festive holiday fashion scene, the design elements result in looks that are equal parts classically chic and currently trend-conscious. In preparation for those holiday social gatherings like a Christmas extravaganza or New Years Eve bash, ladies will soon be able to shop the must-have trends at Camille La Vie & Group USA and ring in the new year in star-studded style.
In keeping with the classic look to a T and combining a hint of retro-inspired style, the A-line dress with elements of lace along the bodice following down to the skirt makes a smart choice. Camille La Vie & Group USA houses an extensive range of dresses that cater to this prim and proper look. Stars known synonymously for wearing vintage style A-line dresses on the red carpet with touches of lace include Taylor Swift, Natalie Portman, Sarah Jessica Parker and Marion Cotillard. Other top trends of the moment include sultry body-skimming styles with doses of illusion details to highlight all the right areas while retaining its sophistication and tasteful class. Think equally sultry celebs who would showcase this look like Sofia Vergara, Kim Kardashian and Kate Moss. And as the holiday parties are all about showcasing rich and opulent hues with sparkle, wearing a dress with added touches of beading and embellishment are fitting for these special occasions as it adds texture, composition and aesthetic appeal to what was originally a simple bodice or neckline. A-list stars known for wearing more elaborate and intricately designed garbs include Anne Hathaway, Beyonce and Nicole Richie.
When asked about the current holiday trends of the season, President of Camille La Vie & Group USA, Denise Viotti says, "Holidays are all about wearing richly colored fabrics that are fun, sassy and convey hints of glitz. It's a time to have some fun when shopping for holiday party looks. After all, this season is all about sparkle! At Camille La Vie & Group USA, you're destined to find a dress that complements your personal style."
About Camille La Vie & Group USA
Camille La Vie & Group USA is a one stop boutique to all things party dress chic in prom dresses, homecoming dresses, wedding dresses, social separates, day into evening dress styles, bridal, formal accessories, jewelry and shoes. They offer one of the most extensive and stylish collections of special occasion dresses that can be found under one fabulous roof! Since its inception in 1985, the company's motto of "to provide customers with the latest dress fashions at an affordable price" has made them a leading retailer in virtually all categories. To date, Camille La Vie & Group USA has expanded to a total of 24 stores nationwide.
In select Camille La Vie & Group USA stores, customers will discover a collection of bridal apparel including wedding dresses, bridesmaid dresses, flower girl dresses, mother of the bride dresses and guest of wedding dresses. Camille La Vie & Group USA also provides bridal alteration and consulting services. So whether your style is classic and elegant or modern and chic, Camille La Vie & Group USA will outfit stylish women of all types without breaking their bank!
If you're in a committed search to score a certain dress style, Camille La Vie & Group USA is your one-stop source for all things pretty – from on-trend high to low dresses, mirror stone and chunky beaded bodices, bright and bold hues, florals and animal prints, handkerchief, godet and trumpet hemlines, subtle detailing or all over sequins, one shoulder, crisscross back or cut out silhouettes to cascading ruffles and fun, frilly poof A-line skirts in tulle, Camille La Vie & Group USA's fashion styles are seemingly endless! And the options do not just stop there. Follow Camille La Vie on Twitter at @camillelavie.