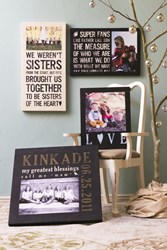 "With the opportunity to convey deeply personal messages, custom gifts are a perfect option," said Janet Kinkade, JK Founder, President & Designer.
Alpine, UT (PRWEB) November 27, 2013
Nothing says "I care" more than giving a gift that is beautifully personal and meaningful, and Jewel Kade is seeing a huge surge in orders for its custom jewelry and décor this holiday season.
As more people are turning to the opportunity to design custom pieces for those they care about, Jewel Kade's Production Studios are working even harder to keep up with the demand.
With Jewel Kade's Photo Charms, customers design their own pieces in the online JK Studio. They upload a photo for the front, and choose from among JK's many artisan designs on back, or upload another photo. Once designed, Jewel Kade's Production Artists in Alpine, Utah, handcraft the charms.
Jewel Kade's Poetry Custom Canvases allow customers to create one-of-a-kind gallery-quality artwork featuring photos and text they design in JK's online JK Studio. From family photos to personal mottos, these are among the most popular gift items this season.
Customers are also having fun creating stamped charms, with custom messages they choose on Reva Stamps, Jack Tags and Kate Stamps. They are also accenting these by adding additional personal touches, like Swarovski Birthstone Crystals and Keepsake Charms, on the Ball Chain.
"This is a time of year when we share gifts to express our love for others," said Janet Kinkade, Jewel Kade Founder, President & Designer. "With the opportunity to convey deeply personal messages, custom gifts are a perfect option, and it's been rewarding to provide artisan pieces that our customers know their loved ones will cherish for years to come."
ABOUT JEWEL KADE
Artisan jewelry. Handcrafted charms. Inspiring décor. Available through JK Stylists nationwide, Jewel Kade is a fresh take on timeless fashion. Founded by Designer Janet Kinkade, Jewel Kade's Signature Charms and Poetry Custom Canvases are all handcrafted in JK's Production Studios in Alpine, Utah. Jewel Kade has garnered national attention – appearing on ABC News, The Today Show, The Ellen Degeneres Show, and American Idol. (Citing media references does not imply endorsement of Jewel Kade products in any way by media, related production companies or related spokespersons/personalities.) Committed to making a difference, Jewel Kade also offers the JK Cares Collection. For every JK Cares piece purchased, 5% of the proceeds goes directly to help in the fight against diseases that affect millions of women nationwide: breast cancer (Huntsman Cancer Institute) and heart disease (American Heart Association). For more information on Jewel Kade's inspiring story, artisan jewelry and Poetry Custom Canvases, visit http://www.jewelkade.com.