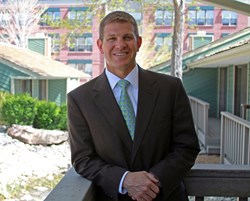 Greenwood Village, CO (PRWEB) December 01, 2013
During Pancreatic Cancer Awareness Month this November, Dr. Adam Weaver is drawing attention to the fact that pancreatic cancer may be among the health problems that gum disease causes or contributes to. Research has found a correlation between the two conditions, which means that it is especially important for people in Greenwood Village with symptoms of gum disease to visit Dr. Weaver for gum disease treatment.
The relationship between periodontal disease and pancreatic cancer is not fully understood, but Dr. Weaver wants his patients to know that research has shown a relationship. In 2007, the Harvard School of Public Health published a study finding that men with gum disease faced a 63 percent higher risk of developing pancreatic cancer. The study also found that men with periodontal disease who had never smoked, which is a well-known risk factor for pancreatic cancer, still had twice the risk of developing the cancer.
Research has not established whether gum disease directly contributes to the risk of pancreatic cancer. It is known that gum disease causes many health problems, since harmful bacteria can enter the bloodstream through the mouth; one theory is that the inflammation caused by gum disease, or the body's response to that inflammation, increases the risk of cancer. Since pancreatic cancer is a very serious health concern, the 2007 Harvard study listed it as the fourth leading cause of death in the U.S., Dr. Weaver wants his patients to understand the potential role of periodontal disease.
Preventing gum disease is the best way to avoid related health complications, but for people in Greenwood Village who already have the condition, Dr. Weaver offers a minimally invasive gum disease treatment. During the Laser Assisted New Attachment Procedure (LANAP), Dr. Weaver treats gum disease with the Periolase MVP-7 laser. The wavelength of the laser is invisible to teeth and gum tissue, so the procedure does not damage healthy tissue. LANAP has a high success rate and offers little danger of complications. Dr. Weaver encourages anyone in Greenwood Village who notices signs of periodontal disease to schedule an appointment to find out whether gum disease treatment is needed. Anyone who wants more information on gum disease causes and treatments is welcome to visit Dr. Weaver's website or call his office today.
About the Doctor
Dr. Adam Weaver is a periodontist offering personalized dental care for patients in Greenwood Village, CO since 2000. Dr. Weaver attended Brigham Young University, and during that time took a two year leave to serve as a missionary for the Church of Jesus Christ of Latter-day Saints. Upon his return he completed his bachelor's degree in Medical Science. He attended dental school at the University of Colorado Health Sciences Center where he received his Doctor of Dental Surgery degree. He joined the periodontal residency program at the V.A. Medical Center in Milwaukee, WI, and earned his Masters of Science degree at Marquette University. Dr. Weaver is fluent in Spanish, Portuguese and Guarani. He is part of one percent of dental professionals providing the LANAP FDA cleared laser procedure for gum disease and periodontal treatment. To learn more about Dr. Weaver and his dental services visit his website at http://www.mtperio.com and call (303) 800-0120.