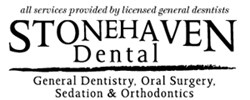 Salt Lake City, Utah (PRWEB) November 27, 2013
Stonehaven dental office in Utah announces a new feature on their website. New patients who are looking for convenience can go to their website and fill out forms online. These forms include general information and HIPPA. They are excited to offer this feature to clients, giving them the flexibility they need and saving them time. Forms can be filled out with client information ahead of the appointment so that the client doesn't have to show up early to fill out paperwork. Clients can be sure that their information will remain secure with Stonehaven.
In addition to forms for new patients, clients can also post questions on their website. If they have questions about sedation dentistry, it is convenient to go online and ask their questions right to the doctors. Appointment requests can also be done online. Stonehaven is committed to making dentistry convenient for their patients and they are excited to offer the flexibility of online forms.
Stonehaven dental office in Utah offers coupons that are available on their website to new patients. They offer 75% off of sedation dentistry and free exam and xrays to new patients. With many dentists in Salt Lake City and surrounding areas, they make it easy to get to the dentist. Stonehaven will also work with customers insurance companies to make sure they get the coverage they deserve. Many insurance companies will offer coverage for sedation dentistry in Utah for impacted wisdom teeth and some other conditions. Stonehaven will help clients get the care that they deserve and work with insurance companies to help save clients money. With the easy to use online forms, patients can quickly print out all of the required paperwork in PDF format to fill out ahead of time saving time for the patient, and making it very flexible and easy.
Stonehaven has four locations throughout Utah including Draper, Orem, Lehi, and South Jordan. All of their dentists are exceptionally trained by accredited schools and they are all certified to perform the procedures that are offered. From sedation dentistry, pediatric dentistry, orthodontics, or dental implants, Stonehaven Dental provides multiple procedures under one roof saving you time and money. They are happy to consult with clients to make sure that they are getting the service they need, the quality they deserve at a price they can afford. For more information, visit their website at http://www.stonehavendental.com.