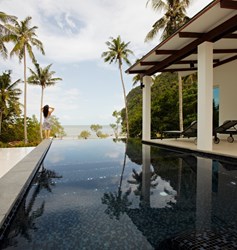 The TripAdvisor review awarded Krabi Riviera a five-star rating on all the assessed criteria, which included customer service, comfort, cleanliness and location.
(PRWEB) November 29, 2013
The Beach House is a stunning holiday villa situated in Ao Nang on the Krabi coast. The villa sits directly beside its own private, sandy beach, and the property enjoys panoramic views across the Andaman Sea. Naturally, this is a truly special property in which to spend a holiday, and the villa's beachfront location also presents couples with an ideal setting in which to hold a wedding ceremony. One couple from Canada did exactly that, and their FlipKey review confirms that The Beach House is the perfect venue for one of life's most important events.
The review awarded Krabi Riviera a five-star rating on all the assessed criteria, which included customer service, comfort, cleanliness and location. The review also gave a glowing account of how flexible, attentive and efficient Krabi Riviera's team were in ensuring that the happy couple and their fifty guests enjoyed this very special occasion. This is the first review submitted on FlipKey for The Beach House, as this newly built property was only made available for rental earlier this year. Naturally, the team at Krabi Riviera are delighted with the result.
Flipkey is owned by TripAdvisor and the site has been named the 'Top Vacation Rental Site' by New York's Travel + Leisure Magazine. FlipKey features 240,000 holiday rental homes from across the world, and it is visited by millions of users every month with the aim of finding the perfect holiday home. The TripAdvisor group of companies forms the largest travel site in the world, and it is clearly an important source of information in the global tourism industry.
Internet-based information has become an increasingly important factor in business marketing, and it has had a marked impact on the tourism industry. It seems only natural for those wishing to travel overseas to consult the World Wide Web for advice, and many consumers now use the internet to complete all their holiday arrangements. Online reviews have also become very influential, and by providing excellent customer service and outstanding facilities, the strongest companies in the tourism industry will use the power of this global marketing to outshine their competitors.
Krabi Riviera certainly embraces these marketing opportunities, and the company is justly proud of its high customer service standards and its outstanding property portfolio. Indeed, all of the villas on Krabi Riviera's portfolio enjoy very high standards in style and comfort, and the company also provides a personal concierge service for the convenience of its guests.
It's not surprising that Krabi Riviera has received such glowing recognition for the services it provides. Hard work certainly achieves results, and the team at Krabi Riviera can guarantee that every effort will be made to ensure their guests enjoy a memorable and relaxing holiday in the beautiful province of Krabi.