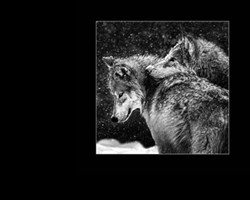 Just it time for the holidays, a perfect gift for the art collector or nature lover.
Carmel, Indiana (PRWEB) November 29, 2013
Just in time for Black Friday, Small Business Saturday and Cyber Monday, Jim Wyant of Wyant Photography has released one of his most-awarded photographs to the public.
"Soul Mates" taken during one of Jim's western wilderness trips, captures wolves in a very spiritual connection. "Soul Mates" helps connect the viewer to a simple, yet complex, intimate experience with two wolves. Jim's desire to embrace their presence through a careful study of movement, interaction and expression brought to the public through this touching image.
This image brings the drama of life to a base form and the viewers stand memorized by the experience. The opportunity to capture the image shared by the chance of making this image available to the public, brings a great satisfaction.
The judges of the professional photography competition sponsored by the Professional Photographers of America (PPA) connected with the print and awarded it as one of the top three photographs in the unclassified division in the international competition titled the Grand Imaging Division.
PPA is the largest international professional photography association in the country and has been hosting a photography convention since 1880. With over 25,000 members PPA continues to look for new ways to assist its members through protection, education and resources for their continued success in the industry.
Imaging USA is the longest running annual convention, trade show and professional print competition for photographers. Attended by thousands of professional photographers and industry experts across the globe. Imaging USA combines education, networking and trade show deals to create a place photographers flock to for inspiration and growth.
Jim Wyant of Wyant Photography has a location in Carmel and Zionsville, Indiana. Specializing in portraits for high school seniors, families and individuals, Jim has expanded into scenic art photography and nature photography and has won numerous awards for his photography art over the past few years. Jim is one of the most awarded winning professional photographers in the state of Indiana.
This image is being offered in a limited number to the public, just in time for the holidays. It can be ordered in a 20x20 size print mounted in a white underlay and black archival matt with a black frame for Christmas delivery for only $275, for a limited time. Only 250 of these images will be available and each image will be signed, receive a certificate of Authorization and will be registered under the purchasers information.
This unique print is sure to become an art collectors prize collection and with anticipation of increased value as this print becomes unavailable to the public. The artist, Jim Wyant will allow registered owners to be contacted by Wyant Galleries for potential interest in the resale of their art piece.
To order a copy of this collectors piece, please visit wyantgallery.com.