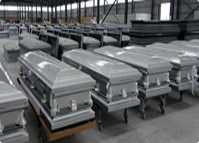 (PRWEB) November 28, 2013
Recently, Millionaire Casket, a reliable casket manufacturer and wholesaler from China, has announced a new casket promotion, which is specially designed for the North American market. All customers worldwide can enjoy the great discounts now.
MillionaireCasket.com is famous for its metal caskets. The company also provides other caskets and related funeral products, including a large selection of urns, keepsakes, embalming tables and more. It aims to provide a one-stop funeral shopping experience for its clients worldwide.
The CEO of the company states, "The promotion will end on Dec. 15, 2013. Discounts are offered from 25% to 55% off. All our products are also at affordable prices. Please spend a few minutes before you make a shopping decision, and have a look at our website. I am sure that you can find a suitable product. "
A casket is a right way to show the respect to the dead, it is important to find a suitable casket for many people. Moreover, the company has recently updated its website. The CEO adds, "We have much experience in the industry. We have updated our website so that it is easy to navigate and can help customers find anything they need easily. Now, we can serve our customers better, and they will be served with quality products and our enthusiasm!"
About MillionaireCasket.com
MillionaireCasket.com is a funeral products manufacturer and wholesale distributor. It is based in Mainland China and operates business worldwide.
More details about the company and its products can be found at:
http://www.millionairecasket.com/