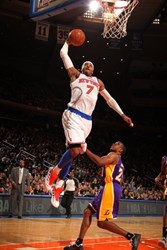 Denver, Colorado (PRWEB) November 28, 2013
Hey, it's Thanksgiving already. That means a never-ending feast for sports fans all weekend long. No fanatic goes unfulfilled with the bounty of college and pro basketball, football and hockey games to add to the holiday platter.
"Currently, the New York Knicks led by Carmelo Anthony are the leading ticket seller across the sports category nationally," said Marta Ault at online ticket marketplace BuyAnySeat.com. "Plus, of course, there's a virtual banquet of other sports events taking place over the four day Holiday weekend."
In addition to the traditional parades and other local festivities, several NFL teams hit the field today. The Detroit Lions and Dallas Cowboys each continue their tradition of playing on Thanksgiving. The 6-5 Lions host the 5-5-1 Green Bay Packers in a game that will decide who owns the top spot in the NFC North.
The 6-5 Cowboys will face off against the lowly 4-7 Oakland Raiders in the hopes of preserving their spot on top of the NFC East. After Thanksgiving dinner, the primetime stage belongs to the Pittsburgh Steelers and Baltimore Ravens. The AFC North rivals are both 5-6 this season, and are each looking for a playoff shot.
Football may be the holiday's most popular sport, but Thanksgiving 2013 will also feature games from the NHL, college football, and college basketball. In the NHL, the Vancouver Canucks take the ice at the Ottawa Senators and the Edmonton Oilers are at the Nashville Predators. Both games are in the early evening.
"That's why we're proud to offer sports fans the most comprehensive and continuously updated selection of sports tickets online, with a worry-free guarantee to protect their purchase.
"To access the full line-up of sports tickets now available, customers can go to BuyAnySeat.com and click on the sports icon – then select their team and their tickets," said Ault.
In college football, 7-4 Texas Tech plays at 7-3 Texas, while 7-4 Ole Miss travels to 5-6 Mississippi State during the day. And in college basketball, Purdue hits the hardwood at fifth-ranked Oklahoma State and second-ranked Kansas hits Wake Forest, at noon and 3:30 p.m. ET, respectively.
"There are several other college basketball match-ups on Thanksgiving as well," added Ault. "Marquette at Cal State Fullerton, Memphis at Siena, Xavier at Iowa, UCLA at Nevada, and Creighton at Arizona State."
Numerous NBA games will take place on Friday. And two other big college football battles are on Saturday with USC versus UCLA, and Alabama visiting archrival Auburn as a double-digit favorite. Then, of course, NFL football hits with a power packed late season matchups on Sunday.
The Knicks play the Denver Nuggets tomorrow night at the Pepsi Center and return home to host the Pelicans on Sunday night.
To shop for discount NBA Basketball tickets, visit BuyAnySeat.com.
About BuyAnySeat.com: An online ticket marketplace, BuyAnySeat.com connects sports, theater and other live entertainment fans to an extensive network of ticket sellers worldwide. The site's simplified listings and navigational tools enable shoppers to easily locate, compare and purchase inexpensive, discounted or lower-priced tickets to virtually all advertised sports and entertainment events around the globe.
The ticket marketplace, which is PCI-compliant and Norton Secured, also provides customers with a complete Worry-Free Guarantee on all ticket purchases. Based in Denver, Colorado, BuyAnySeat.com is a subsidiary of Denver Media Holdings. For more information, please visit http://buyanyseat.com.