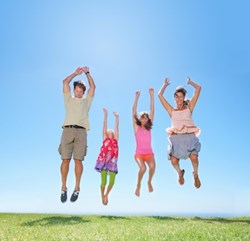 Natural Baby Pros has made a positive influence in my life! I am in love with Natural Baby Pros! - Jalene Salus
San Diego, CA (PRWEB) November 29, 2013
NaturalBabyPros.com is kicking off the launch a new social platform December 2 with a Cyber Monday Coupon Page and 40 Day Celebration of all they have to offer families in the world of fertility, birth, baby and home.
This celebration marks their 5th year online as a well-respected, educational resource and directory catering to those interested in natural and integrative support for fertility, pregnancy, birth, baby and family care. Christine Dionese, a member, shares her experience of the organization, "Natural Baby Pros protects your freedom of choice by offering top notch advice and insight! This business can be your number one advocate to ensure you, your partner, your baby, and your family are connected to safe progressive services of your choosing!"
Education, giveaways and a real taste of community connecting couples and families with specific, natural, non-toxic, or safe solutions for growing healthy, happy families. A detailed timeline of therapies, topics, and professions highlighted during these 40 days can be found on the Celebration Blog Page.
Parents are becoming more conscious about the choices they make for their families; and because natural, conscious and green options are not the norm, parents spend more time and effort researching alternatives, such as natural birth, acupuncture, and drug-free treatments than is necessary. Natural Baby Pros brings natural options such as these together into one place, allowing for less time spent digging and more time spent learning and connecting. Father and Member Jeremy Linquist shares, "We had our baby two weeks ago. We had an amazing water birth at home in our bedroom. Our midwife team was amazing and I am preparing my birth story to share with the world. It was such an amazing experience. Thanks for your website, I was on there looking things up often."
NaturalBabyPros.com is thrilled to partner with trusted brands like DoTerra and Fit4Mom, as well as innovators like NuzzleMom and Green Kid Crafts for Cyber Monday. And the list of donors for the celebration giveaways is growing by the day, including gdiapers, Dr. Brown's, Credible Cravings, Little Green Pouch and more. The coupons are sure to make holiday shopping for every parent and baby a breeze.
Parents and families interested in learning more about Cyber Monday Coupons, Giveaways and relevant conversations: visit NaturalBabyPros.com to join for free or just explore options in raising a healthy, happy family.