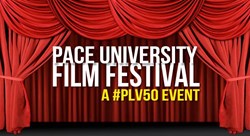 Pleasantville, NY (PRWEB) December 05, 2013
This upcoming Saturday – town residents will be heading to Pace University Pleasantville for a day of fun, film and food. In celebration of the 50th anniversary of Pace Pleasantville there will be a film festival during the day at the university.
The festival is free and open to the public. There will be iconic films from the 60's, 70's, 80's, 90's and 2000's. Classic films that will be shown are: Willy Wonka, Mary Poppins, Social Network, Saturday Night Fever, Jurassic Park, Life of Pi, Lilies of the Field, and When Harry Met Sally. Theses featured films were chosen because they are emblematic of the time and influential to the social impact decade. After the film Social Network, there will be a panel discussion with Pace faculty about the impact of the film on society.
The films will be shown from 11 a.m.–6:30 p.m. at Pace Pleasantville, 861 Bedford. The Kessel Student Center, Lienhard Hall and Miller Hall. Enter through entrance 3,
The film screenings will be followed by a free gala reception from 6:30p.m.–9:30p.m. In the Gottesman room of the Kessel Student Center. Black tie is not required but guests can dress in a retro garb. There will be an opportunity to walk down a red carpet and take photos with cardboard cutouts of famous actors.
The event is being planned by students from Pace's, Communication Visual Arts program.
The Communictions and Visual Art students will be showing their produced video documentary of the history of Pace University, Pleasantville.
Families are welcome. Seating for the films is limited and are on a first come, first served basis. RSVP for the gala is required: filmfestival(at)pace(dot)edu
For an updated schedule of panel discussions and film screenings, visit: http://www.pace.edu/dyson/filmfestival2013.
This event is sponsored by the Dyson of Arts and Sciences at Pace.
Everyone is invited to share photos on Facebook and Instagram using the #PLV50. For more 50th anniversary events at Pace University, visit http://www.pace.edu/plv50.
Contact: Cara Cea, 914-906-9680, ccea(at)pace(dot)edu.