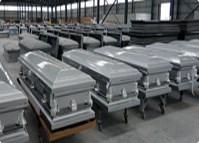 (PRWEB) December 01, 2013
MillionaireCasket.com, a professional casket company, is offering one lucky customer a permanent set of car keys this holiday season. Today, the company releases its new metal casket collection for December to expand its global market share.
As a top 3 casket manufacturer, Millionaire Casket ensures that all its caskets are made from a variety of metals. The new metal caskets are no exception. According to a sales manager of the company, their caskets are made in bronze, copper or stainless steel. All of them are made in a variety of thickness and weight. All the new metal caskets, as well as other products, are manufactured with the high quality materials.
"We are doing a great work to provide high-quality caskets at reasonable prices to casket distributors worldwide. We hope to shine light on the fact that we beat our competitors out on many of the key points that drive consumer satisfaction." The CEO of the company states. Each is a caring professional who can help a family clarify and express their feelings.
Besides caskets, MillionaireCasket.com also makes and supplies urns, embalming tables, church trucks, stretchers, church furniture, keepsakes and other related funeral products. They hope to be a one-stop funeral supplier.
About Millionaire Casket
Millionaire Casket is a leading China casket manufacturer, and focuses on the business of casket wholesale. This company offers an exquisitely crafted line of all kinds of metal caskets, solid wood caskets, veneer caskets, cremation caskets, rental caskets, orthodox caskets, infant or over-sized caskets and European style coffins. The standard quality control policy is strictly applied here, and a third party quality assurance is also available.