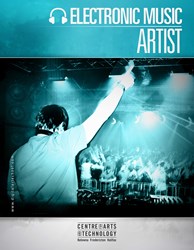 "This is going to be an amazing learning experience for these students, I want to help show them how to be successful so that the industry stays vibrant."- Arun Alleluia (Owner/Manager Sapphire Nightclub)
Kelowna, BC (PRWEB) November 29, 2013
Canadian Digital Art School The Centre for Arts and Technology is pleased to announce that on Friday December 13, four students from its Electronic Music Artist (EMA) program will be headlining a special show called "Centre Beats" at Sapphire Nightclub in downtown Kelowna. DJ's performing are DJ Global, The Lych Fais, Totem, and Maestoso. Proceeds from ticket sales will be donated to the Kelowna SPCA on behalf of the students from Centre's Electronic Music Artist and Veterinary Hospital Assistant programs.
The show will be an opportunity for these up-and-coming local artists to showcase their DJ artistry and put their skills to work for a good cause. The students are currently working towards completing a rigorous six month training program at Centre for Arts and Technology's Kelowna campus, one of few colleges in Western Canada offering an accredited electronic music artist program.
John Byrne, an instructor of the EMA Program and a professional DJ himself said, "I'm so excited for this event. All of my students have been working so hard since day one, and this is a chance to show the world the talent they all have. I'm truly inspired by these students, and I couldn't be more proud of them."
Arun Alleluia, owner/manager of Sapphire, is donating the use of the club's side lounge for the night as a way of supporting and showing the ropes to rising DJ's trying to break into the industry. Alleluia commented, "This is going to be an amazing learning experience for these students, not just about the technical aspects of performing for a crowd and reacting to the energy in the room, but also about how to market and conduct themselves as professionals, which is something that all venues look for when hiring a DJ. I want to help show them how to be successful so that the industry stays vibrant." Alleluia also recently visited Centre for Arts and Technology as a guest speaker, providing mentoring words of advice to the EMA students who will be performing on December 13.
Event Details:
Date: Friday, December 13
Time: Doors open at 9:30 PM; Show from 10:00 PM – 2:00 AM
Location: The Lounge at Sapphire Nightclub, 238 Leon Avenue, Kelowna BC
Cost: Tickets are $5.00 in advance or $10.00 at the door (proceeds to be donated to the Kelowna SPCA).
Event page: http://digitalartschool.com/media-room/news/centre-beats-electronic-music-artist-students-perform-sapphire
The event is open to the public and organizers would like to invite everyone to come out and cheer on these local up-and-coming electronic music artists. Advance tickets can be purchased from Centre for Arts and Technology Main Reception - Landmark III, 1632 Dickson Ave, starting on November 13. This is a 19+ event; please be sure to bring 2 pieces of government issued photo ID.
Centre for Arts and Technology delivers fully accredited certificate and diploma programs across a variety of arts and technology disciplines. The Kelowna campus features two contemporary recording studios and a film production studio, in addition to extensive digital video, motion graphics, digital media, digital effects, fashion design, and animation labs.
Media Contact
Tyler Finley
Marketing Coordinator
Centre for Arts and Technology
250.860.2787. ext. 6152
tfinley(at)digitalartschool(dot)com