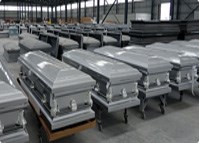 (PRWEB) December 02, 2013
Recently, Millionaire Casket, a leading casket company from China, has proudly announced its new collection of American style oak caskets; these new items come complete with a beautiful ivory interior. Based on a sales manager of the company, Millionaire Casket's artistic endeavors include everything from elegant design to interior work.
Fitted with an adjustable bed and mattress, these new caskets' prices are very reasonable. According to Zoe Wong, CEO of the company, all of the caskets are 100% produced with the high-quality materials and delicate craftsmanship; each one comes with a special locking system that makes these caskets difficult to open once closed.
Zoe says, "We love the earth and so should you. Every casket we make is 100% earth friendly. The American style oak casket may be the most popular type of casket available, and we promise here that we will spare no energy to provide their best products for clients as well as fast delivery."
The CEO continues, "Please take your time and talk over choices and options and honor your loved one by giving them the ability to have exactly what they want. We offer a comprehensive range of affordable caskets with discounted shipping service. Each of our caskets looks traditional but performs modern functions. It can satisfy every customer's need."
About Millionaire Casket
Millionaire Casket is a leading casket manufacturer. This company offers an exquisitely crafted line of all kinds of metal caskets, wood caskets, veneer caskets, cremation caskets, rental caskets, orthodox caskets, infant or over-sized caskets and European style coffins. The standard quality control policy is strictly applied here, and a third party quality assurance is also available.