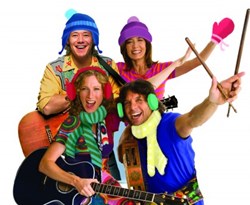 (PRWEB) November 29, 2013
State Theatre and Metropolitan Entertainment present The Laurie Berkner Band – A Holiday Celebration Concert on Saturday, December 14, 2013 at 2 p.m. Concert tickets range from $25-$35. Special $100 VIP packages are available that include preferred seating and an after-show meet and greet.
Children's music superstars and preschool television favorites The Laurie Berkner Band will perform in a series of Holiday Celebration concerts along the East Coast in November and December including a stop in New Brunswick on December 14. The concerts will include music from the critically acclaimed 2012 album, A Laurie Berkner Christmas (Two Tomatoes Records/Razor & Tie). According to the Associated Press, "If you have kids under the age of five in your house, this is probably the only Christmas album you need this year." The band will perform tracks such as Jingle Bells, Laurie's original song Candy Cane Jane, and the Hanukkah song Candle Chase (Laurie's version is available on iTunes) among many more festive seasonal favorites.
A former preschool music teacher by day and indie rocker by night, Laurie Berkner started selling her music over ten years ago out of her living room on her own label, Two Tomatoes Records. Time Magazine lauded Laurie as "a kind of sippy-cup Sheryl Crow…Berkner inhabits a kid's curious perspective in her lyrics and pens folk-pop melodies that bear repeated—very repeated—listenings." The Wall Street Journal called Laurie "one of the most popular children's performers in America…Her music is distinctive because it speaks to kids without talking down to them, charming youngsters without boring grown-ups."
The Laurie Berkner Band features: Laurie Berkner, vocals/guitar; Susie Lampert, keyboards; Brady Rymer, bass; and Bobby Golden, drums/percussion.
For tickets or more information, call the State Theatre ticket office at 732-246-SHOW (7469), or visit us online at http://www.StateTheatreNJ.org. The State Theatre ticket office, located at 15 Livingston Ave, New Brunswick NJ, is open Monday, Tuesday, Thursday, Friday, 10 a.m. to 6 p.m.; Wednesday 11 a.m. to 7 p.m.; Saturday, 1 p.m. to 5 p.m.; and at least three hours prior to curtain on performance dates, unless otherwise specified. For information on group outings and discounts, call 732-247-7200, ext. 517. Some additional ticket and transaction fees may apply.
State Theatre is a premier nonprofit venue for the performing arts and entertainment. The theater exists to enrich people's lives, contribute to a vital urban environment, and build future audiences by presenting the finest performing artists and entertainers and fostering lifetime appreciation for the performing arts through education. The State Theatre's programs are made possible, in part, by funding from the New Jersey State Council on the Arts/Department of State, a Partner Agency of the National Endowment for the Arts, and contributions from numerous corporations, foundations, and individuals. The Heldrich is the official hotel of the State Theatre. Magic 98.3 is the official radio station of the State Theatre. The Star-Ledger is the official newspaper of the State Theatre. United is the official airline of the State Theatre.
STATE THEATRE
15 Livingston Ave
New Brunswick, NJ 08901
Ticket Office - 732-246-SHOW (7469)
Online - http://www.StateTheatreNJ.org
INTERVIEWS AND PHOTOS FURNISHED UPON REQUEST
Please contact Kelly Blithe at
732-247-7200, ext. 542 or by email at kblithe(at)StateTheatreNJ(dot)org.
Up-to-the-minute information on events and State Theatre news, online at http://www.StateTheatreNJ.org.
# # #