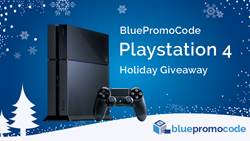 (PRWEB) November 27, 2013
BluePromoCode.com, a leading marketplace for coupons and deals, today announced the start of a Sony PlayStation 4 Holiday Giveaway. Just in time for the 2013 holidays, the giveaway will be run from 12PM PST on Wednesday, November 27th through 12PM PST Wednesday, December 11th. One winner will be picked and announced on the BluePromoCode Facebook page on Thursday, December 12th.
The Sony PlayStation 4 was released on November 15th and sold over 1 million copies in the first 24 hours. Gamers and technology sites across the web have been giving it positive reviews. Ben Gilbert of Engadget said in his PlayStation 4 review, "We may not review game consoles everyday, but we know a good one when we see it."
Contestants can enter to win a 500GB PlayStation 4 from BluePromoCode by heading to the BluePromoCode blog and following the instructions to earn entries. Entries for this holiday giveaway can be earned in a handful of ways including: "liking" the BluePromoCode Facebook page, Tweeting about the giveaway and following the BluePromoCode Twitter. There are a total of 11 ways to gain entries into the contest.
In addition to this limited time PlayStation 4 Holiday Giveaway, BluePromoCode offers over 100,000 coupons and promo codes, hand-picked and tested. Find the hottest gadgets and technology at BluePromoCode for stores including Sony, Microsoft and more!
About BluePromoCode.com
BluePromoCode, based in Los Angeles, is a leading coupon search engine used by millions of consumers to help them save the most money on their purchases. The website partners with 12,000 retailers to bring over 100,000 coupons to its users and its editors hand-check coupon codes to ensure the highest quality ones rise to the top. BluePromoCode also offers personalized emails so members can receive the best deals for the brands they love directly in their inbox. Learn more at bluepromocode.com.