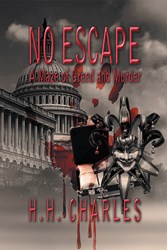 Fantastic story with a lot of twists and turns. The details and development was amazing. A great read! – Jane Wagner
(PRWEB) December 04, 2013
When former Iraqi combat veteran and current U.S. Senator Tom Graves proposes that drugs be legalized, his suggestion unleashes a political backlash from the religious right. Opposition to his drug proposal is unwittingly organized and funded by a Washington power broker. The opposition takes a deadly turn when a zealot detonates an explosive during the proposal's first hearing and Senator Graves is hospitalized. During recovery, he meets Dr. Victoria Bennett, a woman with a complicated past. After the two become involved, Victoria is murdered. Graves must resort to his military training to track down her killer.
Captured by a drug lord, Graves is helped to escape by his daughter, Angelica, only to be tracked down and surrounded in an abandoned DEA safe house by the drug lord's trained assassins. Escape seems impossible. Is there more than meets the eye in what has become A Maze of Greed and Murder?
About the Author: H.H. Charles, a pseudonym for Charles H. Helein, is a practicing lawyer in Washington, D.C. This is his first novel and draws on his experience working and living in the D.C. area. His next book is based on the facts of how big business gets its way in Washington through money, influence, cover ups, and when necessary, murder.
Watch the video at: http://www.youtube.com/watch?v=yq591KBS2E8&feature=youtu.be
NO ESCAPE: A MAZE OF GREED AND MURDER (Kindle ISBN: 978-1-62857-610-8, ePub ISBN: 978-1-62857-609-2) is available for $9.99 at http://epubco.com/shop/products/no-escape-a-maze-of-greed-and-murder-by-h-h-charles/# .
WHOLESALERS: This book is distributed by Ingram Books and other wholesale distributors. Contact your representative with the ISBN for purchase. Wholesale purchase for retailers, universities, libraries, and other organizations is also available through the publisher; please email bookorder(at)aeg-online-store(dot)com.
The soft cover version (ISBN: 978-1-62516-998-3, $21.95) can also be ordered through the publisher's website: http://sbprabooks.com/HHCharles .
ABOUT: Strategic Book Publishing and Rights Co, LLC provides book publishing, book marketing, and e-Book services to over 10,000 writers around the world, employing 150 people who live throughout the US and work virtually through telecommunication. Strategic Book Publishing and Rights Co, LLC is experiencing over 30% growth per year, having published approximately 3000 authors with almost 100 new releases per month. Our books are available through Ingram, the largest book distributor in the world, as well as in bookstores, through Amazon, Barnes & Noble and all online channels. Strategic Book Publishing and Rights Co, LLC attends and exhibits at the major book expositions in London, New York, China, and Germany each year.