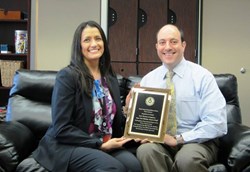 Fort Worth, TX (PRWEB) December 03, 2013
Sam's Furniture is proud to announce that its own Seth Weisblatt was honored with a glass plaque in recognition of "continued support of victims of Tarrant County". Seth is part of the third-generation of Weisblatt's to work with Sam's Furniture, a local family-owned furniture and appliance store located in Fort Worth and now also Irving. Seth's grandparents, Sam and Florence, opened the store back in 1946, and Seth's father is currently the President and CFO of Sam's.
Sam's Furniture has made it a tradition to help support victims and their families at the Tarrant County Criminal District Attorney's Office. Last year Sam's donated auction items to help raise money at a charitable cook-off and also donated furniture to a victim of a drunk driving accident. Most recently, Seth personally delivered a new sofa and loveseat for the Victim Assistance waiting room area where victims and their families sit and wait during courtroom proceedings.
In late October, members of the Tarrant County DA's office honored Seth with the plaque in recognition of Sam's continued support towards victims of Tarrant County. Blanca Burciaga, the director of the Victim Assistance Unit, thanked him stating, "Your generosity will ensure that thousands of victims who are here for court proceedings will have a comfortable place to wait during what is assuredly a very difficult and stressful time. Thank you so very much for your kindness toward the victims of Tarrant County."
Sam's Furniture takes pride in their community involvement and look forward to continuing these acts of kindness to try and make a difference in that community. "It is important for us to give back and help those who are less fortunate and need help," said Weisblatt, "We just try and do the right things for the right people."
To learn more about Sam's Appliance & Furniture please visit SamsFurniture.com or the Facebook page.