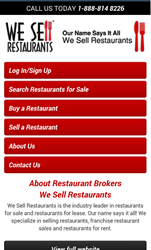 Fully 35% of all our web traffic is accessed from a mobile device.
(PRWEB) December 27, 2013
The new version of the internet's most popular restaurant for sale website is now available giving palm of the hand access to features like restaurants for sale, restaurants for lease and log in to restaurant buyer user accounts. All key elements of the restaurant broker's popular website are condensed into a user friendly, easy to use version compatible with any mobile phone.
"Fully 35% of all our web traffic is accessed from a mobile device," says Robin Gagnon, Restaurant Broker and Chief Marketing Officer for the firm, "It only makes sense that we would invest in a platform as easy to use with your fingertips as our legacy site is for browsing with traditional key strokes." That's on par with national results reported this year by The Pew Research Center which found 31 percent of mobile internet users currently access the web via their mobile devices with even higher percentages reported for the 18-29 year old age group by multiple industry sources.
The mobile version of the restaurant broker website incorporates the same branding, logo, colors and overall feel of the traditional platform which makes is feel very familiar to users on their mobile phones. Visitors have the option of switching over to the full We Sell Restaurants website which includes the restaurant broker radio show, press, and industry blog articles.
We Sell Restaurants is a leader in the adoption of technology for the restaurant brokerage industry. Their other advances include: use of an online confidentiality agreement, electronic delivery of restaurant listing information and up to the minute seller updates. President Eric Gagnon says, "We wanted our mobile based site to deliver the same service buyers and sellers receive today from We Sell Restaurants. Clients now have the luxury of searching a restaurant by business type, zip code, city or state in just a couple of clicks without the hassle of pinching and enlarging content on a smart phone."
We Sell Restaurants is no stranger in adapting the latest technological advances. The Company created the Brokers Operations and Sales System (B.O.S.S. ©) which is a proprietary software system designed to manage all listings, buyers, sellers, and lead activity. The unique software system provides integrated reporting on buyers, sellers, listings, and listing leads. The B.O.S.S.© also tracks broker activity and is a key competitive advantage offered in the sale of restaurant brokerage franchises which the company began offering in 2012.
About We Sell Restaurants
We Sell Restaurants is the undisputed leader in the sale of privately held restaurants. Our name says it all...We Sell Restaurants. Found online at wesellrestaurants.com, the restaurant brokerage firm focuses on powerhouse marketing, a systemic sales approach, their proprietary Broker's Operating and Sales System (B.O.S.S. ©) and unmatched professionalism.