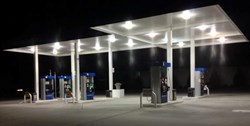 Giving Tuesday gives us an opportunity to take that giving spirit and spread it a little further by helping people in our community who need it most.
Gloucester, Va. (PRWEB) November 28, 2013
Phillips Energy has joined #GivingTuesday – a first of its kind effort that encourages charities, families, businesses, individuals to follow the post-Thanksgiving shopping blitz with efforts to help local communities – and will support the Bread for Life Community Food Pantry.
On Tuesday, Dec. 3, just after Black Friday and Cyber Monday, Phillips Energy will donate 10 percent of gas log and sales at its fuel station in Hayes, Va. to the Bread For Life Community Food Pantry and collect non-perishable food items to deliver.
"Phillips Energy is extremely grateful for our customers who choose this season to give gifts of new grills, gas logs and accessories," said Phillips Energy Vice President Elizabeth McCormick, who's team will also be serving hot coffee and home baked goods to customers on #GivingTuesday. "Giving Tuesday gives us an opportunity to take that giving spirit and spread it a little further by helping people in our community who need it most."
Founded in 2009, the Bread for Life Community Food Pantry is located on the grounds of the Church of St. Therese on Main Street in Gloucester and operates as a true community food pantry, actively being supported by volunteers, donations and contributions from churches throughout the region.
The pantry is open Monday and Friday from 10 a.m. to 1 p.m. and Wednesdays from 2 to 5 p.m. for residents of Gloucester. Food is purchased and donated.
Bread for Life is on track to handle more than half a million pounds of food this year, making it the largest food assistance program in Gloucester and among the top three in all of Hampton Roads.
"We consider a family active if they have come to the pantry at least once in the preceding year," said Bob Quinzel, Executive Director of Bread for Life. "Back in July, we had maintained around 1000 to 1050 active families for well over a year. By this Sept. 1, we hit 1100. As of Nov. 25, we now have 1407 active families, 174 new families and the rest returning after more than a year away."
TWEET THIS:
Gas for food! Phillips joins #GivingTuesday movement in support of local food pantry. #doingourpart
ABOUT PHILLIPS ENERGY:
Founded in 1946, Phillips Energy, Inc. is one of upper Tidewater, Va.'s only providers of heating oil, on and off road diesel, gasoline, propane, dyed and cleared kerosene and lubricants. Phillips Energy serves businesses and families in, among other locations, Gloucester, Mathews, Yorktown, Williamsburg, Toano, Newport News, Hampton and Chesapeake.
Phillips Energy also features a propane gas distribution division, propane appliance installation and service, HVAC installation and service and a 24-hour retail fuel facility. Located at 2486 George Washington Memorial Highway in Hayes, Va., the retail facility offers fueling for private and public fleets with gasoline, diesel, propane auto gas, E85 flex fuel, and 20 percent biodiesel.
Phillips Energy also has a location at 18404 John Clayton Memorial Highway in Mathews, Va.
Learn more about Phillips Energy at http://www.PhillipsOilAndGas.com.