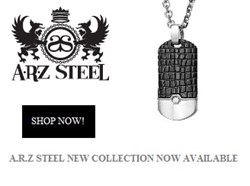 (PRWEB) December 02, 2013
A.R.Z. Jewelery Collections has long been established as the premier maker of stainless jewelry on the market. Their collections have been steadily gaining in popularity for nearly a quarter century thanks to an inherent knack for strong modern design and attainable pricing standards. Now, the design team at A.R.Z. is proud to announce that it has once again expanded its impressive line-up to include new designs in all of their most popular lines.
Crafted from only the finest in raw materials, A.R.Z. has long been known for its attention to detail and strength of construction. Now, new pieces offer an even wider array of options for anyone who appreciates the finer things in life. From crystal and silver earrings and pendants for her to newly released steel necklaces for him, the expansion of A.R.Z.'s line-up brings a whole new layer of depth to what was already a smashing success in the company's Steel Collections.
The A.R.Z. Steel Collections have built their brand on the appeal of stainless steel, which is at once timeless and modern. But they have also combined elements like genuine crystals and precious metals such as silver to create one of a kind pieces which are not only appealing in their design, but also in their relatively attainable price points.
And to help make these price points even more appealing, A.R.Z. is now offering a 10% discount on all purchases made through their website. The A.R.Z. Steel Collection can be found at http://www.ARZSteel.com, and purchases of this line, or any of A.R.Z.'s other collections can be made at the company's main web page, http://www.ARZShop.com.
Customers can use the promo code: VIP10OFF from now until the end of the year to cash in on this generous offering from A.R.Z.
A.R.Z. has long been one of the most sought after names in steel jewelry, but by expanding their most popular collections even further and offering an additional 10% discount for a limited time, they are not only embracing their current customer base, they also are opening the door to a whole new segment of customers who are sure to fall in love with one of the industry's most sought-after names.