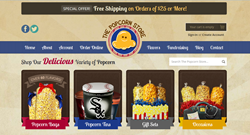 We are excited to have a website that gives online visitors a similar experience to that of being in the store.
Oswego, IL (PRWEB) December 04, 2013
The Popcorn Store of Oswego, IL teams up with Chicago web design firm, Idea Marketing Group to launch a new ecommerce website.
The Popcorn Store opened its doors with a simple, yet great goal to provide delicious and truly unique gourmet popcorn. As they whip up fresh daily doses of Chicago's favorite flavors such as the Chicago mix (cheese and caramel), ranch and kettle corn, they are always conjuring up the next best flavors. If you stop by, they offer you as many free samples as you would like. They also love to hear your flavor pitch, no guarantees though. Unlimited sampling ensures customers leave each and every time with a new flavor to savor.
The Popcorn Store is a family owned shop that in addition to gourmet popcorn, offers custom gift sets, old fashioned sodas and nostalgia candy. They are ready to serve the nation with delicious gourmet popcorn through their new ecommerce web design.
The Popcorn Store wanted to be able to come as close to possible with their in-store sampling on the website, so although you can't sample online, the images of each flavor speak to the website visitor. Due to the variety of products, flavors and customization options, the website needed to be able to replicate the same enjoyable experience online, as if the customers were in the store. Idea Marketing Group worked to create that feel and implemented features along the way to give both The Popcorn Store and their customers exactly what they wanted.
The shop contains over 60 eye-catching flavors, each of which are listed on the website. An interactive scrolling feature allows visitors to see all of their options and click to select sizes and add products directly to their cart. Users can also view options for popcorn bags, popcorn tins, gift sets and occasions. The website displays all available options, making the experience truly unique during each purchase.
A login system was implemented that allows visitors to securely store their information, making every transaction simple. The website is easily managed using a custom responsive design on the Wordpress platform. Wordpress creates an experience for both front and backend users that is easy to navigate. Backend users are able to add, edit and remove content easily, even those who aren't very tech-savvy. The new Popcorn Store website has a dedicated page where users can send requests in regards to fundraising, keeping The Popcorn Store close to the community they serve.
The Popcorn Store and Idea successfully designed an online user experience that lets customers access all options and created an experience as if you were visiting the actual store. The website was meant to deliver a gourmet popcorn experience to people both near and far and Idea's execution made that idea come to life.
To check out The Popcorn Store's new ecommerce website, visit https://www.thepopcornstores.com/.