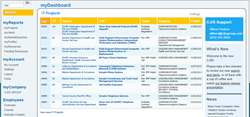 This new product release, coupled with our expanded analyst coverage, greatly enhances our utility for IT firms seeking new business opportunities in the state and local market
Herndon, Va (PRWEB) December 02, 2013
CJIS GROUP, a provider of Pre-RFP market research, released their next generation CJIS Premier product which offers subscribers advanced searching tools, market analysis capabilities, a friendly, intuitive interface and expanded reporting and exporting functionality. The features of the new database will help technology vendors quickly and easily locate and qualify relevant opportunities and efficiently create effective strategies to penetrate the state and local government market.
CJIS GROUP used feedback from its clients to design the new product around the user's experience. The intuitive interface provides the vendor community with the ability to target and qualify pre-RFP opportunities, examine trends in award data and export all results in a customizable format. The new tools, coupled with new group sharing functionality, will aid companies in creating a competitive market strategy and action plan.
"Since acquiring the company in 2011, our development efforts focused on taking our strengths – market intelligence derived from conversations with decision makers and a simple, easy to use interface -- and building upon them through the use of state-of-the-art database, content management and searching tools. Today, we not only have great proprietary data, but we have powerful tools for our clients to analyze our data," commented David Heinemann, CEO of CJIS GROUP. "This new product release, coupled with our expanded analyst coverage, greatly enhances our utility for IT firms seeking new business opportunities in the state and local market" adds Heinemann.
To schedule a "sneak peek" of the new CJIS Premier click here.
The new database builds on CJIS GROUP's commitment to improve the technology procurement process by providing in-depth, validated market intelligence, and quality research for the state and local government community.
To learn more about our new database or to schedule an online demonstration, please contact:
Stefani Shepherd, Director of Sales
Sshepherd(at)cjisgroup(dot)com
703-822-5083
CJIS GROUP is the leading provider of pre-RFP market intelligence regarding IT procurements in the criminal justice, public safety, and health and human services market in the US. Many of the largest IT vendors, as well as specialized vendors, use CJIS GROUP's web-based market intelligence to plan their sales activities to police, fire, emergency services, courts, corrections and health and human service agencies across the US.