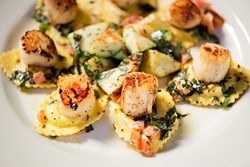 "I found the best tasting Scallops in the World. They are so good, so perfect, so wild and so natural. I saw it all firsthand," says Duke Moscrip, owner of Duke's Chowder House.
Seattle, WA (PRWEB) December 03, 2013
"I found the best tasting scallops in the world. They are so good, so perfect, so wild and so natural. I saw it all firsthand," says Duke Moscrip of Duke's Chowder House. No restaurant owner had ever been aboard to witness this kind of fishing. Duke is thrilled to be carrying these unique wild scallops on his menu today featuring eight unique recipes not available in any other restaurant.
He appreciates the fact that they are harvested in relatively small quantities, handled carefully, and processed quickly after harvest. Duke has dubbed these the "Oh My God" Weathervane Scallops. They are coveted for their large meaty abductor muscle and are harvested from all over Alaska including the Bering Sea, Gulf of Alaska, and the Aleutian Islands. Hand-shucked and frozen on board immediately after they are pulled from the clean icy waters of Alaska, these domestic sustainable wild scallops are naturally low in fat and are prized for their ultra-fresh taste and sublime sweet flavor. Duke buys the scallops from a handful of boats that harvest according to the strict standards and regulations set forth by Alaska's Department of Fish and Game and each has an independent At-Sea Observer on board to ensure that sustainable practices are followed and that the by-catch of any crab is carefully monitored as well. The scallops are sold in five pound boxes and each box ensures traceability to the source because the vessel and date of harvest are clearly marked on the box.
So, why does Duke go to Alaska? He claims that he does it because he wants to bring back the best seafood for his valued guests. "It makes such a difference to have the best," he adds. Duke had been buying east coast scallops for years. He said that there is nothing wrong with them. However, when he heard about Wild Alaska Weathervane Scallops, he just had to jump on a plane and see for himself. He found a sustainable resource that is free of unnecessary preservatives and chemicals. Unlike other restaurants, Duke's Alaska Weathervane Scallops have no Sodium tripolyphosphate (STP, sometimes STPP or sodium tripolyphosphate or TPP). STPP is a suspected neurotoxin according to the National Institute for Occupational, Safety and Health (NIOSH) as reported by http://www.FoodandWaterWatch.org in an article entitled "What's On Your Fish?
Duke's Chowder House has recently earned a 4.5 grade (Blue Fish rating) out of 5 by Fish2Fork, a leading evaluator of seafood restaurants. This is the highest seafood restaurant rating in the State of Washington.
The Chefs at Duke's Chowder House have prepared eight different preparations which are not found anywhere else including Scallops with Raviolis stuffed with Pumpkin Mascarpone. Here is the recipe.
About Duke's Chowder House: Dedicated to bringing its customers the best every day, Duke's Chowder House has six locations throughout the Puget Sound region.
Owner Duke Moscrip has been at the helm for thirty seven years and continues on his passionate journey to source all natural, healthy and fresh ingredients. Duke's food is free of hormones, antibiotics and free of harmful chemicals. He wants the best possible ingredients for his guests. Duke pioneered the concept of "ice chilled, better than fresh." Duke's is an upscale-casual Pacific NW seafood concept offering signature, flavorful, 100% Sustainable Wild Seafood, Award Winning Chowder and Grass Fed Burgers in a gathering place that is friendly, comfortable, clean, unpretentious and filled with personality.
For additional information, contact: Tamara Wilson, Tamara Wilson Public Relations 206-409-6735.