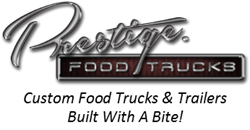 Custom Food Trucks & Trailers Built With A Bite!
Orlando, FL (PRWEB) November 29, 2013
Coming right off the heels of their new build out project with Dunkin Donuts and helping our nation's servicemen and women, Prestige Food Trucks continues their foray into the good cause arena by starting a build out on a mobile meal provider for Food Bank for the Heartland.
"The timing of these two projects was great. It's in our mission to deliver not only the best food trucks in the country, but to be part of giving back," says Jeremy Adams, EVP of Operations. "Food Bank for the Heartland helps families struggling with hunger in Nebraska and western Iowa. It's a privilege to help them in that mission."
Food Bank for the Heartland will use the food truck to delivery healthy meals to Kids Café sites in the Omaha area. Kids Café is one of the nation's largest free meal service programs for low-income children. The food truck will also be utilized in the summer months as the Kids Cruisin' Kitchen, serving nutritious meals to children at-risk for hunger when school is not in session.
"This is a new way for our Food Bank to get food into the hands of those that need it," said Brian Barks, Director of Development and PR for Food Bank for the Heartland. "We're pleased to be partnering with Prestige Food Trucks. What's being built in Orlando will have a tremendous impact on the lives of many here in Omaha."
The Prestige Food Trucks' Business-in-a-Box solution consists of:

Initial Consultation
Inventory Selection
Truck Build out (Interior and Exterior)
Complete Owner Financing
Marketing
Branding and Design
Online Business Development
Promotional Materials
Website and Location-Based services
About Food Bank for the Heartland (a member of Feeding America):
Food Bank for the Heartland is a private 501(c)(3) nonprofit organization that acts as a central clearinghouse through which the food industry and community may donate surplus food to feed hungry individuals, families and children. Food is distributed to more than 285 member agencies in 77 counties in Nebraska and 16 counties in western Iowa. Food Bank for the Heartland distributed more than 12 million pounds of product in fiscal year 2013 and served over 250,000 different people in need in the Heartland. For more information, visit http://www.FoodBankHeartland.org.
About Prestige Food Trucks
Prestige Food Trucks builds, sells, buys, finances, leases and rents premium quality custom food trucks/mobile cafés & trailers to a wide range of clientele from sole-proprietors to nationwide chains. Their commitment is to offer complete turnkey development to their customers, from building to branding to getting on the street.
More information about Prestige Food Trucks is available online at http://www.prestigefoodtrucks.com.
###
Financial capital for Prestige Food Trucks is provided by Prime Pinnacle, LLC, a private capital equity investment firm. Prime Pinnacle focuses on alternative capital investments. For more information visit http://www.primepinnacle.com.
If you would like more information about this topic, please call Jeremy Adams at
(888) 418-8855 or visit us on the web at http://www.prestigefoodtrucks.com