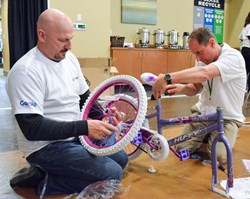 Stoughton, MA (PRWEB) November 29, 2013
From October through December, demand for charitable team building programs offered by TeamBonding and Recipe for Success increases by over 25% compared to other quarters. Although there is often a small uptick in web traffic and leads for charitable programs in April and July, the demand does not rival this season of giving.
TeamBonding and Recipe for success have already seen a significant lift in traffic to charitable team building pages. TeamBonding currently offers over 15 team building programs geared toward corporate social responsibility with their most notable launch of the Do Good Bus by TeamBonding. However, Recipe For Success's Cooking with a Cause program stands out as a favorite.
Cooking with a Cause begins with a brief quiz on the issues of hunger and homelessness in the US to help organizations and teams better understand these issues and ends in a meaningful and worthwhile donation of food to people in need. The program includes food prepared and consumed by the participants during the event and a three-part donation to area food banks.
"Thank you so much for the wonderful Fare to Share food donation from your recent Northeast meeting. Your willingness and initiative to team build around a charitable cause is a testament to your organization. The end result of your donation was approximately 200 pounds of food which provided over 150 meals, which went to use immediately. The food safety and handling was a key issue due to the fact that many of our clients have compromised immune systems." - Paul M. Colligan, Director of Programs, The Greater Boston Food Bank