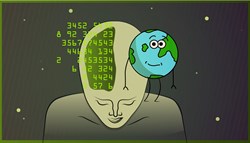 Human brain is still the most powerful/adaptable machine on this planet, we just need to understand it better
Santa Clara, CA (PRWEB) November 30, 2013
"Right Brain workouts for the Artistically Starved" starting at Studio Bongiorno, is developed by Engineer turned Artist Sujata Tibrewala to give back the creative power to all in an artistically starved mechanistic world. The workshops kick off with a free introductory session on Jan 20th at 6:30 pm to give the participants a flavor of what they will be doing in the 4 session workshops at Studio Bongiorno.
"The best education is what teaches you to ask questions rather than give you the answers." Art accordingly to Tibrewala teaches one to trust their questions, and makes them creative enough to find their own answers. The simple act of observing something tangible to depict it pictorially forces one to analyze what one has actually depicted vis a vis what they started to express in the first place. This process of creation then keeps raising questions for one like, "am I doing this right", "where should this line go", "what is this colour expressing", "is this the right colour", " is the mood created in my painting coming out as intended" etc etc. One also asks the question which are important to them at that time. And then one finds their own solutions and act on it. One is making decisions at every step of the process, and are finding creative solutions to answer their own questions too. Once the brain starts getting such creative workouts on a regular basis, there is no stopping back. It then applies its creativity to all aspects of its life.
It is this creative process of inspiration, creation, and feedback , that is missing from everyone's day to day lives. Ask a class room of three years olds, about who loves art, and all the kids in the class would raise their hands. As the age increases the number of kids who like art keeps dwindling down, until in high school the numbers can be counted on fingers. Is it not surprising that humans who are dominantly visual beings, lose touch with their visual symbols so early on in life? We learn to read and write to express, not to become authors, yet we lose our first language "art".
Creating Art as such is the world's most complex puzzle. A realistic drawing uses tools such as perspective, proportion and 3D modeling; which is nothing but maths and geometry . Depicting colors from life needs one to understand how we see light, how it changes colors of objects it falls upon, and how the optical properties of material it falls upon affects the way we see it, a branch of science. Symbols and the use of certain colors to express something etc. are born out of the culture the artist comes from. The choice of pictures, symbols and colors also evokes emotional reaction from people depending on where they came from and their psychological frame of mind. Yet if one just trusts the right brain and follow its directions instead of listening to the analytical left brain all the time, anyone could draw and paint like an artist.
" People often ask me, can anyone draw and paint, and I believe yes anyone can given the right training" says Tibrewala, "after all anyone can paint their dreams in the night, without being taught how to, isn't it ?".
In the workshop series "Right Brain for the Artistically Starved", Tibrewala introduces the novice to the "art "of "quietening" the left brain, while "reactivating" the right so they can creatively forge the mystery of their own lives.
About Sujata Tibrewala:
Sujata Tibrewala is a postgraduate electrical engineer who now uses her engineering background and knowledge of science to spread art and issues close to her heart. She has had successful art shows at venues including University of Illionois, Life Force Arts, Chicago, Regional arts Commission St Louis and various other national and international venues. She has also served as a docent and an adult art education advisor at Brooks's Museum, Memphis. She is also a member of many artist guilds and associations. Sujata has won many awards right from her school days, such as Creative Artists Society, Prasar Yagna: The Advertising Club and The ART Slant, New York. Her art has got rave reviews in many leading dailys of India and USA including ST Louis Beacon, Alive St Louis, Everything is art, Lakeview Patch North Central Chicago and Broad " a Feminist and Social justice magazine" published by Loyola University Chicago.
About Studio Bongiorno:
Studio Bongiorno was born out of dream of Phil Bongiorno to not only showcase his work but to create a hub for the local art scene. How fitting is it that dream became a reality in the historic building that once was The California Monument Company, located right across the street from Mission Cemetery in old Santa Clara. As Phil sees it, "we are the mall-ternative" A place to escape the daily grind, treat yourself right or to get that one of a kind item in a place unlike anything you will find in South Bay.