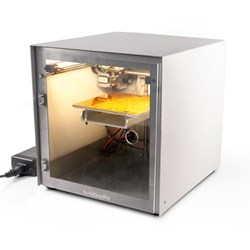 Brooklyn, NY (PRWEB) November 28, 2013
With the holiday shopping season revving up, Solidoodle announces major discounts on the popular Solidoodle 3rd Generation and Solidoodle 2nd Generation Pro desktop 3D printers through the Thanksgiving Day weekend, concluding at the end of Cyber Monday (Tuesday, December 3 at 12am EST) through its online store.
Holiday Weekend Specials
The Solidoodle 3rd Generation is available for a steep $100 discount through the sale, for an unbeatable price of just $699. Boasting an 8" x 8" heated platform for a generous 512 cubic-inches of build space, the Solidoodle 3 provides users with the ability to print large plastic objects. Also on sale, the Solidoodle 2nd Generation Expert, with a 6" x 6" heated bed and full enclosure, is discounted $50 and will ship with a free 2lb spool of Naturally Natural 1.75mm ABS filament (a $43 value), for a total price of $648.
Just announced, the Brooklyn-based manufacturer's premium 3D printer, the Solidoodle 4,is also available for purchase at its online store. With features including a powder-coated steel enclosure with easy-open lid and attractive ABS door, it's an amazing value at just $999.
About Solidoodle
Solidoodle, founded in 2011 by aerospace engineer and 3D printing industry-veteran Sam Cervantes, builds the most affordable fully assembled 3D printers on the market for both professional and consumer use. Built in Brooklyn, New York, more than 7,000 Solidoodle 3D printers have sold to customers around the world. For more information about Solidoodle, visit http://www.solidoodle.com.