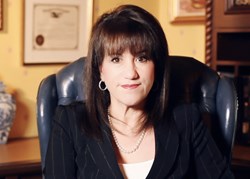 In the end, this is a win not just for her but mainly for her special needs child.
(PRWEB) November 30, 2013
A young woman facing many years in prison will be able to continue to work at her job and care for her special needs child because of an impassioned argument on her behalf from Philadelphia criminal defense attorney Hope Lefeber. U. S.A. v. Murphy, Crim. No. 10-770 (E.D. Pa. November, 2013).
Lefeber recently defended the young woman on drug charges in federal court. It was the woman's first offense, but a sentence of many years behind bars still hung over her head. Lefeber successfully argued that a long prison sentence would hurt the woman's son, who suffers from an autism spectrum disorder. The consequences of a long term of imprisonment also would not benefit society, the defense attorney argued.
"The goals of the criminal justice system do include punishment and deterrence, but we also have to look at what is in the best interest of society," Lefeber said. "Is society best served by rendering this young woman unemployed and unable to provide for her special needs child?"
The judge, whom Lefeber said had been bent on a longer prison sentence, agreed with her argument. He ultimately sentenced the young woman to 6 days imprisonment and 60 days in a halfway house. The sentence will allow her to continue to go to work, Lefeber said, keeping her off the state's welfare rolls and enabling her to provide for her son's special needs.
"It is important not only to consider the importance of punishing a criminal defendant, but the Court needs to consider the best interests of society and what would be achieved by a longer sentence of imprisonment if it would render the mother unemployed and unable to provide for her child." Lefeber said. "In the end, this is a win not just for her but mainly for her special needs child."