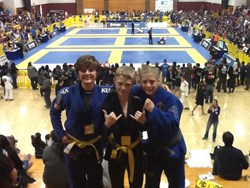 "We want the children enrolled in our youth program to be competitive, but also have a bright future in life outside of martial arts."- Coach Julius Park
Baltimore, MD (PRWEB) November 27, 2013
Baltimore area Brazilian Jiu-Jitsu team, Crazy 88 Brazilian Jiu-Jitsu, has been a consistent producer of the top Brazilian Jiu-Jitsu (BJJ), Muay Thai, and Mixed Martial Arts (MMA) competitors in the region. Many of their competitors were brought up through a system in which they must first compete at smaller regional tournaments before they go to the larger, international tournaments. This past weekend three competitors went to The NAGA North American Grappling Championship in West Orange, New Jersey, and brought back three medals.
NAGA (North American Grappling Association) is one of the most well known grappling promotions in the United States. For competitors on the east coast these are often the only available tournaments that do not require a plane to get to. This makes NAGA tournaments a good, intermediate step before the larger tournaments such the IBJJF (Internation Brazilian Jiu-Jitsu Federation) and the Abu Dhabi Pro Trials.
Crazy 88 sent competitors Vanessa Griffin, Will Connelly, and Jon Connelly. Vanessa, a 16 year old student at Long Reach High School, took first place in the Women's Adult Blue Belt Light Weight division, earning a gold medal. Will Connelly, competing for the second time in his Brazilian Jiu-Jitsu career, took bronze in the Men's No-Gi Beginner Welter Weight division. Jon Connelly took silver in the Men's Featherweight Purple Belt division, closing out the division with a teammate from another academy.
The most impressive aspect of Vanessa and Will's placements is the fact that both maintain full-time academic schedules, as well as training for these competitions. Vanessa is still a junior in high school, and Will is a freshman in college, yet both can still manage to travel and compete successfully. Within the youth programs at Crazy 88 academics are always the priority. Master Julius Park said, "Martial arts is not just about getting better at self-defense, but also about being a better human being in general. We want the children enrolled in our youth program to be competitive, but also have a bright future in life outside of martial arts."
For the best Martial Arts training in Howard County MD, please contact:
Crazy 88 BJJ - Elkridge 7024 Troy Hill Dr, Suite L Elkridge, MD 21075 443-283-1450
or visit http://www.BaltimoreMixedMartialArts.com
For information on training in Baltimore County, please contact:
Crazy 88 - Owings Mills 5 Easter Ct, Suite E Owings Mills, MD 21117 410-999-1064
or visit http://www.Baltimore-MMA.com