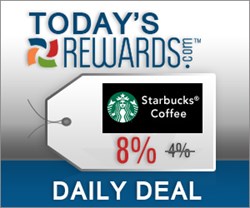 'I love earning cash back on products I would buy anyway. The gift card section is a great addition right before Christmas.' Michelle Gant
Dallas Texas (PRWEB) November 28, 2013
Rewards.com launches new features for saving money in time for Black Friday and Cyber Monday! Deal hunters head to Rewards.com for cash back on gift card purchases, holiday shopping, and travel!
Retail's biggest discount shopping day of the year is about to be here and Rewards.com wants holiday shoppers to know there is no need to head to the busy stores. There is no need to fight the crowds on Thanksgiving or Black Friday when you can find the best deals are online. Rewards.com is the ultimate destination for finding extra savings, discounts, and cashback. All major retailers of electronics, gifts, tablets, apparel, big screen TVs, and all your holiday shopping needs can be accessed online. Some of the most popular merchants include Macys.com, Overstock.com, and Gap.com. Walmart.com is trending hot deals and Black Friday promotional offers now.
The site provides huge discounts to customers and features thousands of offers from the most popular stores and brands. Shoppers can also on Facebook and Twitter.
A spokesperson for the site states, "Shoppers can quickly find various deals by searching Electronics, Apparel, Free Shipping, Merchant Brand Offers, Gift Cards, and Travel. Shoppers can also get great deals without having to deal with the in store rush. If they shop now they won't miss the holiday specials."
About Rewards.com & DBG Partners, Inc:
Rewards.com Launched in 2012 and offers consumers the ability to earn cash back when they shop online and grants them access to hundreds of merchant sourced coupons - many of which let you earn cash back on top of your discount.
DBG.com is a leading pioneer in consumer loyalty and rewards marketing. With a proven track record of consumer engagement, they have been designing, developing and managing complex loyalty and rewards programs for more than a decade. By listening to the needs of customers and learning from the experience of managing some of the world's largest consumer loyalty programs, they have gained expertise and trust in a now booming industry. Founded in 2002 DBG has distributed points and miles to its customers for over 3 billion in purchases.
Media Contact:
Heather Breidenstein
HBreidenstein(at)dbg(dot)com
817-416-3606