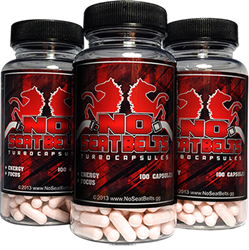 ...No Seat Belts aims to expand their product to benefit both customers and partners...
Fort Worth, Texas (PRWEB) December 03, 2013
No Seat Belts is an energy supplement engineered to improve focus and mental clarity. It is primarily used by gamers in the e-sports community to give them a competitive edge on their opponents. Oftentimes, poorly formulated energy drinks or shots may have adverse effects, causing a lack of focus or jitteriness. With a unique Tri-Blend of ingredients, No Seat Belts Turbo Capsules exhibit none of these irritating effects, while lasting longer than competing energy supplements. By launching the partner program, No Seat Belts aims to expand their product to benefit both customers and partners, while increasing brand recognition.
No Seat Belts intends to open its partner program to users of the gaming website Twitch.tv, allowing individuals to monetize their gaming content via revenue sharing and incentive based performance rewards. As the leading live video game streaming platform, Twitch.tv provides a unique community for broadcasters to relate with their fans. This allows partners to personally connect with their viewers, which correlates into increased sponsor attention, and a heightened level of conversions. Christopher Billo, Account Manager at No Seat Belts stated that, "We work closely with our partners to assure they are well versed on promotional techniques, as well as the tools which we offer." Partners who meet performance goals are provided with bonuses and additional marketing tools to further their promotional efforts through viewer interaction.
Unlike inline advertising, which has a negative effect on the user experience, No Seat Belts partnership provides a perfect balance between offering a means of monetization; without driving viewers away from gaming content. The Twitch.tv platform presents a unique opportunity for mutual growth between No Seat Belts partners and the e-sports community. Advertising creatives provided to partnered broadcasters include profile banners, stream overlays, and a complete statistical tracking system, allowing users to analyze their overall performance. As a convenience, commissions are paid on a biweekly basis, via the users preferred payment method. Furthermore, each partner is assigned a dedicated account manager whom can be consulted for campaign optimization, assist with support inquiries, and handle user-specific configuration requests.
The No Seat Belts partnership program will officially begin accepting applications December 3rd, 2013. To apply for partnership, visit partners.noseatbelts.gg.