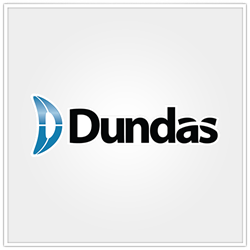 "Dundas really believes in educating the public on how to solve business problems through proper data presentation, and we're really glad to be working with Dr. Anand to help students learn about those solutions," said Ricky Bradnam, Solutions Architect
Toronto, ON, Canada (PRWEB) December 03, 2013
Dundas Data Visualization (http://www.dundas.com), a leading provider of custom dashboard solutions, will speak at McMaster University on Dec 3, 2013 in collaboration with Dr. Christopher Anand, Associate Professor of Computing and Software at McMaster University. The discussion will focus on aspects of the Business Intelligence (BI) sector, including trends in the BI industry, career opportunities, and provide examples of real world data design challenges and solutions.
Dr. Anand works in collaboration with the McMaster Computing and Software Outreach program, which aims to provide students, teachers, and parents with resources to learn and have fun with Computer Science and Software Engineering.
Dundas is committed to providing education on data visualization, and wants to take measures to ensure that today's highly skilled youth find careers in growing industries such as BI. Ricky Bradnam and David Vuong, Solution Architects at Dundas, will present various career options within the BI industry, including data visualization consulting, in an effort to provide youth with various employment opportunities. The session will be held in McMaster University in a class room environment and audience will include students from various programs such as Computational Thinking, Business Informatics, Computer Science, Software Engineering, Mechatronics, and the e-health MSc program.
"We want to make sure that students and young professionals are aware that this industry is growing and that there is long-term career potential for them in BI. Dundas really believes in educating the public on how to solve business problems through proper data presentation, and we're really glad to be working with Dr. Anand to help students learn about those solutions" said Ricky Bradnam.
Through educational sessions, Dundas helps people understand the importance of data presentation within the BI stack, and how data visualization can be applied to enable proactive decision making in a business setting. Dundas is proud to be a resource for students at McMaster and looks forward to future educational events with young professionals.
About Dundas
Dundas Data Visualization is a world leader in data visualization and dashboard solutions. Its goal is to provide the best possible data visualization software and services to address the growing need for data-driven decisions in modern business. Dundas offers a flexible software solution and professional services that provides comprehensive dashboard consulting, product enhancement and training.
For more information visit http://www.dundas.com.
About Dr. Anand
Dr. Christopher Anand is an Associate Professor of Computing and Software at McMaster University. His research interests include Provably Correct Very High Performance Parallel Computation, Optimization, and Magnetic Resonance Imaging. He teaches courses in Computational Thinking, Software Entrepreneurship, and Continuous Optimization.
For more information about Dr. Anand, visit http://www.cas.mcmaster.ca/~anand/.